Google has gone under shake-up and the new parent company is known as Alphabet. This is really a big shake-up in the giant company. The question now is what does this mean to Google and what is the place of Alphabet in the new structure? This article will tell you everything you need to know about the new Google-Alphabet;
What is Alphabet all about?
In reality, nothing much will change in this new Google. Alphabet is now the company that will parent all other companies that currently operates under the brand-Google. This implies that companies that previously operated under Google will now operate separately from Google and operate as an independent company. Some of these projects are the glucose-reading contact lenses, driverless cars, the X Labs etc. The new parent company of all Google's projects url is; https://abc.xyz.
What happens to Google?
In this new structure, Google will remain the biggest company within Alphabet. Google is large in many areas such as users, impact and revenue. The google products like Youtube, Google search, Ads, google maps, Android and Chrome will continue to exist within the brand name Google. This means Google is still very much alive.
Who will be in charge of the new structure?
The new structure will have Page and Brin remove themselves from the usual day-to-day running of Google. They will both as co-founders, operate as CEO and president of the new company-Alphabet respectively. They promise to allow the other companies to operate smoothly without much interference. Page and Brin will oversee the expansion and capital acquisitions of Alphabet. This implies that the other companies operating under Alphabet will have new CEOs including Google.
Who will head Google?
Google will be headed by Sundar Pichai who many people refer to as the most powerful man in the mobile industry. Sundar Pichai is 43 years old and has been a rising star since he joined Google. He got promoted in October and became in charge of major products aside Youtube. He also became the second most important employee of Google. He is second only to CEO and co-founder Page. He will run Google separately from the other projects independently to an extent. During the restructuring announcement, Page showered praises to Pichai. He said: "I feel very fortunate to have someone as talented as he is to run the slightly slimmed down Google."
The revenue
Google earns more from internet ads that are sold on its search engine. Google will surely remain the biggest profiting firm under Alphabet. The big question now is where will the other companies under Alphabet generate revenue?
As its stands currently, this has not been vividly cleared by Page and Brin, and it will not get clearer until the company reports its first set of earnings under the new structure in the Q4 2015.
It all seems the current system of search supporting everything else is not going to change soon but it's clear this move is an attempt to make all the other companies under Alphabet make profits on their own.
This is how the Alphabet will look like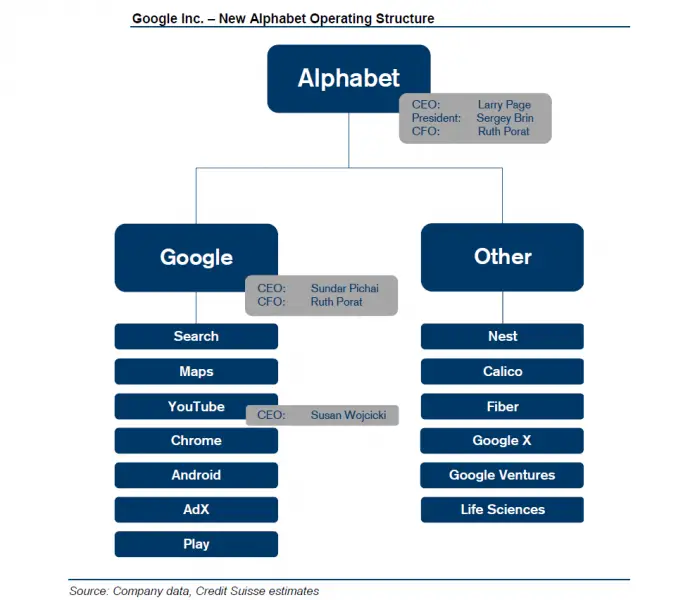 Well, we are all going to get used to the new name, the new king-Alphabet. Even Page admitted that everyone is trying to get used to the name. Alphabet is the new giant company you can think of.