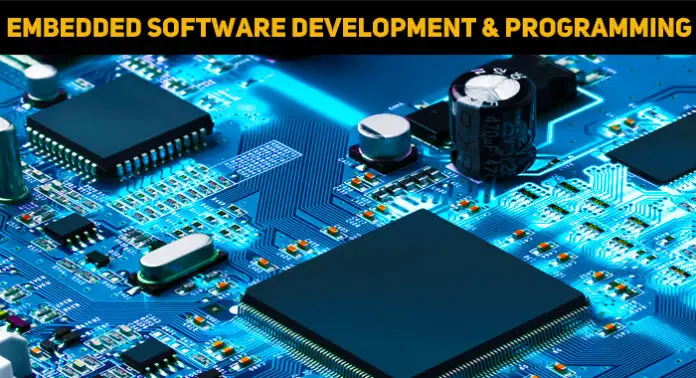 Companies from different spheres and industrial domains make use of embedded software development. Read this article to dive into the details.
Embedded systems are implemented with the primary aim to provide cost-efficient solutions and streamline the work processes in different industries and spheres of human activity. They are widely used in healthcare, manufacturing, telecom, and tech domains. This article will consider embedded software, its major constituent elements, types, and the most widespread technical issues that it has to deal with.
What Is Embedded Software
Embedded software is a type of software implemented to manage not regular personal computers but other types of machinery and apparatus. One of the distinct characteristics of this type of system is that it's possible to control its functionalities with the help of a machine interface, in contrast to human-controlled systems.
As a rule, such software has limitations regarding memory storage and processing abilities. Such apparatus as a modem, laser printer, electric car, smartwatch, manufacturing robot, calculator, or navigating device all are related to embedded technologies. An embedded company ensures that the software in such devices meets all the technical requirements and is compliant with the hardware installed.
Major Aspects and Peculiarities of Embedded Software
With the rise of information technology across different industries, various implementations of embedded systems appeared. Nevertheless, all these kinds of software have certain aspects and peculiarities in common:
Improved reliability
Stable functioning
High performance in real-time
Minimum or no human interfering required
Cost and energy-efficiency
Storage capacity restrictions
Another typical factor that influences the operation of these systems is the necessity for connection with the peripheral system for the sake of interconnection of input-output gadgets. They are single task-oriented, making it impossible for them to perform any activity that was not initially pre-set in the system. When working on the embedded software, developers should ensure that it is compatible with the target hardware and doesn't exceed its capacity.
Fundamental Elements of Embedded System
An embedded system is not just hardware. Each system has a complex structure that includes drivers, cross-compilers, etc. As a rule, all these constituents comprise the three fundamental elements that act together to perform pivotal functions. They are the following:
Hardware (interfaces, displays, memory storage, timing gadgets, interactive devices);
Software (programming code);
OS that can function in real-time.
All these elements act in close cooperation with each other. Hardware, software, and OS equally play an important role in the functioning of the system. Thanks to their coordinated work, the system can function properly. To create a better embedded system software, developers should take care of all these technical details.
Various Kinds of Embedded Systems
There are two major ways to distinguish the most popular kinds of embedded systems.
The first one is based on their scale:
●    Small-scale. For the development of such systems, editors, assemblers, IDE, and cross-assemblers are used;
Medium-scale. For their development, programming languages are used;
Complex systems. They require a comprehensive approach, both on the software and hardware level.
The second way is to differentiate the gadgets in terms of their performance characteristics:
Real-time systems that perform the tasks instantaneously;
Stand-alone systems, which act independently of any sources and complementary systems.
Network-embedded, which function dependent on their networks;
Mobile-embedded that can be found in handy gadgets that are easy to carry and transport.
Pros and Cons of Embedded Systems
Let's consider the most prominent pros and cons of embedded systems. Among the frequently mentioned advantages, one can name covering a multitude of different environments, lesser cost on the development and maintenance, high safety, and smooth performance in general. Most often, gadgets with in-built embedded software are convenient to use due to their small-sized and compact form. They don't require a lot of resources, which allows customers to use an economical approach towards energy consumption.
Notwithstanding, some users report the following cons they encounter during their experience with this type of software: it takes a lot of time and effort to develop embedded products and launch them to the market. Another concern is that such software can perform only a limited set of pre-programmed tasks and doesn't allow any modifications in terms of functionality.
Issues of Embedded Software Programming
Issue 1. Unstable Functioning
When choosing any portable gadget, customers pay a lot of attention to smooth and stable performance. If the device lacks this characteristic, it leads to damage to the company's good reputation.
Issue 2. Insecurity
Internet of Things is becoming more and more popular every day. The connection of the equipment to the Internet poses a threat of cyberattacks, loss of confidential data, and identity theft. That's why it's vital to ensure protection from such dangers, which is especially crucial for mobile applications.
Issue 3. Problems with  Launching
Companies struggle with the speed of their work on embedded software, and it often takes a lot of time to launch a product.
Issue 4. Designing stage
It's not easy to combine such characteristics as portability, small size, high performance, long battery life, and low energy consumption.
Issue 5. Connection
Since the Internet-of-Things is penetrating almost every industry and sphere of life, the devices should be adaptable and compatible with various equipment to establish an adequate connection.
Issue 7. Updating
IoT devices can carry out upgrades on their own. However, it requires profound expertise to install this function correctly and ensure its stable operation.
Issue 8. Fixing Errors
Unexpected difficulties and malfunctions may arise during the development and utilizing of embedded software. That is why frequent quality assurance is necessary.
Issue 9. Digital Transformation
In the last few years, numerous ground-breaking technologies appeared. Engineers should monitor the market of embedded software regularly to keep track of all the introduced innovations.