If you are thinking to gift speakers and are confused because of different speakers available in the market, then the above list will clear your confusion. We have list eight best speakers of 2016 that can be awesome present.
1. Audioengine A5+ Active 2 way speaker:
When we talk of the desktop speaker, our mind gets puzzled as there are as many different speakers as desktop available in the market. How to decide? A simple trick you can use is to cash on that speaker that satisfy to a larger extent; this is where Audioengine A5+ 2-way speaker is the best. These are dynamic speakers that produce the right mix of sounds that gives you an accurately balanced frequency give an awesome sound effect. It has an integrated digital to analog converter that helps to generate a purer signal. This speaker delivers a rich bass that sounds smooth that don't pierce your eardrums. It has built-in amplifiers i.e. 50 watts per channel, remote control, RCA input and USB power port for charging mobiles. It is easy to step up; you just have to connect to your headphone or USB device.
2. Logitech Z623:
It is one of the popular desktop speakers. It is THK certified, thus ideal gift considering the brand. It has a sleek outlook with a powerful subwoofer that can boost any music, gaming, and movie. With an extra cost $30 you own a Bluetooth adapter by Logitech.it has 2.1 200 watt speaker that has on-speaker controls, RCA and 3.5 mm inputs that enable to connect three audio devices at a time. It produces a high-quality sound.
3. JBL Pebbles:
It comes in four different colours black, white, orange and silver. These little cans are very simple to use as it gets in. these plug into your computers via USB and have Aux-in port for connecting it to your phone, computer or tablet. It has in-built volume control knob that are synced with the computer volume control. These are affordable, lightweight and stylish providing quality sounds and satisfy most users.
4. Polk Audio Hampden AM6510-A:
It is the ideal speaker for those are savvy about the Bluetooth tech. Considering look wise these speakers stand out fantastic with wood finish look inspired by retro. It offers 50-22000 Hz stellar frequency response.it features Bluetooth aptX tech that gives you high-fidelity streaming from any mobile device and USB port enables playback from desktop devices. You may find it bit pricey; overall it's a fair deal if we consider design, sound quality, and Bluetooth accessibility.
5. Harman Kardon sound sticks III:
This exceptional speaker takes you towards futuristic design. You will be amazed by its style and design. It looks like a chemistry equipment rather than the typical desktop speaker. You can use it as a centerpiece for your modern home. The devices are truly unique and exclusive. Now coming to its sound quality it is top notch. It has a low-frequency transducer of six inches with a 20-watt amp for filling the room for bass response. You can connect the speaker to any device virtually through its 3.5 mm stereo connection. The only problem in it is many users about the out of box frequency balance, but if you like it, the problem can be solved through the digital equalizer.
6. Edifier USA e25 Luna Eclipse 2.0:
Overall these speakers are good but are not wireless; they are connected to each other via wire and then plug into the power brick. These are connected to the PC through Bluetooth 4.0. They are heavier and has dimension 12.52*21.61*5.59 inches which are almost in line with another desktop size. It has good sound quality and stylish looks. It has the power rating of 74, each tweeter with 15 watts and each midrange driver of 22- watt power each, making it a great speaker compared to others of the same size.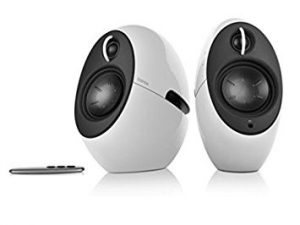 7. KEF X300A:
If you are looking for simple yet best USB powered speakers, then KEF X300A are the best. It might be expensive, but if there are no price barriers, then it is ideal. It has two speaker units that have own woofers cones and tweeter dome stacked inside it. The set-up is quite easy just plug and play via AC power cord for each of the speakers. Just go for it, it will entertain you with excellent quality of digital source sound.

8. Cyber Acoustics:
Looking for an inexpensive option, these speakers perfectly fits your pocket without compromising on sound quality. These 30- watt speakers are best desktop speakers.it is a 2.1 three piece system which includes-2 x 2-inch satellite speaker, 5.25- inch subwoofer giving you best audio experience for music, games, and movies. It also features a separate control panel for switching on and off, adjustment of bass and master volume and 3.5mm headphone jack and aux in jack. It also has 5-foot cable to connect a PC and 11-foot speaker to connect to both the satellite speakers that give you excellent audio experience.