Nowadays, everything from your Smartphone to your fridge has an Internet connection and YouTube is playing a big part when you want to watch your favourite video. Users usually sort video clips and then they will group it to thematic playlists. It's very appropriate and convenient when you watch YouTube videos of your interest all in one place. Best youtube downloaders for mac
If you wish to download the entire series and watch it during your travel or download a playlist of videos about your hobbies or interest, it makes sense to download and save them to your device. But you should take note that YouTube uses a lot of data if you're using a Smartphone and while you're downloading a YouTube playlist that you can take on-the-go and watch offline, you should be aware that many of video downloading apps are full of adware, spyware and vigorous toolbars. The Aimersoft iTube Video Downloader is one of the few exceptions. But before we discuss the use of iTube YouTube playlist downloader, some users want to know if it is legal to download a YouTube video?
Everyone knows that it is illegal to make a copy of content or video if you do not have permission from the legal owner. However, using the third-party downloaders will give you the right to reproduce the video you are downloading. The types of videos that you can download legally are (1) the Public Domain, where the copyright has already forfeited, expired, been waived or become inapplicable from the beginning; (2) the Creative Commons, where the artist or owner retained the copyright but gave the public permission to distribute or reproduce their work; and lastly (3) the Copyleft, where a right to reproduce, modify, and distribute their work is granted to anyone, as long as the same rights will apply to the derivative content.
iTube YouTube playlist downloader, similar to 4K Video Downloader, Gihosoft TubeGet, and VLC Media Player, can download not just one video, but the entire playlist with a single click. It doesn't just work on YouTube, iTube is also an HD video downloader for sites like Facebook, Vimeo, and more than 10,000 video and audio-sharing sites.
iTube gives the 3x faster-downloading speed of high-quality videos on your Windows and Mac PC. The Turbo Mode is an updated downloading technology that utilizes multi-thread downloading method that will help you boost your downloading process, making it much faster than the usual single-thread downloading method.  It also has a Private Mode, which allows you to put all your downloaded videos on a password-protected folder.
Not just that, the iTube video downloader can download high-definition videos without compromising its quality. You can download from 720p up to 4K video without hassles. It also supports almost all types of video resolutions and enables the user to download HD videos from a website and the standard-resolution videos for web or mobile phone use.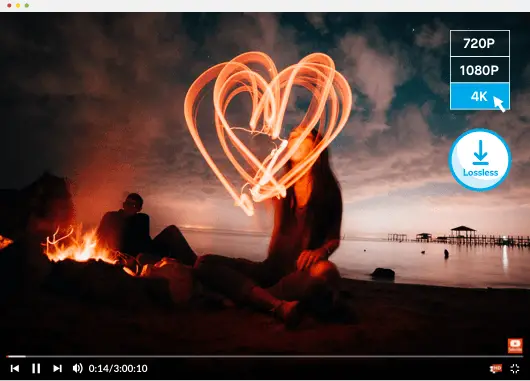 One of the best features of iTube Video Downloader is its ability to download videos to MP3 and other types of audio files in a single click. While on this mode, you can also preset the video format and download it to your preferred formats.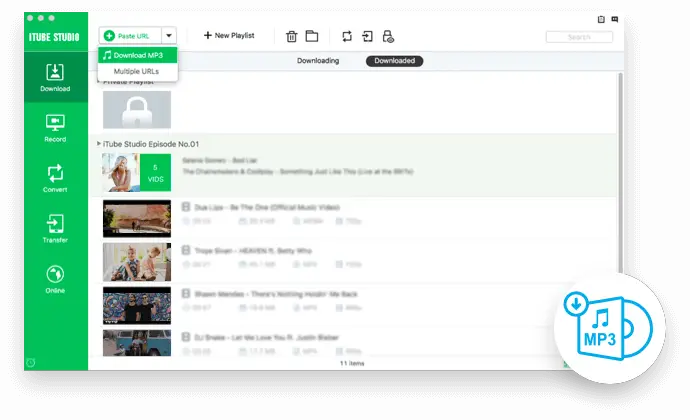 Another great feature of iTube Video Downloader is its ability to download multiple videos. It saves time and effort because all you need to do is to simply paste the URLs of the videos in iTube and then download it from video sharing websites to your device.
iTube Video Downloader is also capable of recording online videos without losing its quality. It has a screen recorder feature, which gives an adaptable recording frame so you can capture every part of your screen.
Among all the above-mentioned features, iTube's ability to download the entire playlist from YouTube is most probably the best. This feature comes handy in most circumstances. If your internet connection is slow, it is a pain to stream videos. But with iTube Video Downloader, it's very simple to download since you can download the entire playlist in a single click. You only need to copy the video URL of the playlist, paste it in your program window, and iTube will detect the playlist URL automatically.
Because of its versatile features and capabilities, Aimersoft's iTube Video Downloader has earned positive reviews. The users benefit a high-quality download experience, as they say. If you wish to download a software that will help you download YouTube videos or other video streaming websites with an ease, you may visit the iTube Video Downloader website and get the software. You can also enjoy using its complete all-pack features by purchasing the software here. A keycode will be sent to you automatically. You can either choose to purchase the software with one year subscription for $19.00 or a lifetime access for $29.00. A Business Lifetime Plan is also available for $72.50 (for commercial use).