WordPress is the most popular software which can be used to create own blog, app, or website. It gained popularity since its inception in 2003. It is an open-source CMS, which is available for free to thousands of bloggers. Its flexible features such as easily understandable and SEO-friendly made it more popular among folks.
Before installing WordPress, there are some elements, which are necessary on your desktop.
1) Web hosting provider like 000Webhost, Hostinger, Godaddy, Bluehost, Pagely, SiteGround, DreamHost, etc.
These providers give space on their web server by charging $5 to $20.
2) FTP access to your web server like XAMPP.
It includes details like server address, FTP username, and FTP password. These are provided by web hosting provider.
3) FTP clients like FileZilla, Cyberduck, and Transmit.
They are desktop software which helps in transferring files from computer to your web server.
4) A text editor like Notepad.
5) Web browsers like Google Chrome, Firefox, etc, which support latest version HTML pages.
Installing WordPress can be done in two ways:
1) Quick way: This way is for simple blogs and websites which do not have heavy traffic.
2) Manually: This way gives full control over website access.
1) A quick way of installing WordPress:
Many web host providers are providing tools, which help in installing WordPress easily with a few clicks.


After clicking on the install button, it opens into software page where you can see the below image, like the page by scrolling it down. Enter the admin username and password and click the install button. Hence, WordPress software gets installed.
2) Installing WordPress manually:
WordPress installation manually includes five exhaustive steps:
Downloading WordPress software
Download latest version of WordPress from wordpress.org. A zip file gets downloaded to extract the zip file.

Upload WordPress files to a web server
The files in the unzipped WordPress folder are to be transferred from computer to web server using FTP client. So open your FTP client and enter the server details like username and password provided by your web hosting provider.
Now click connect which redirects to a new page where you can see files on the computer on the left-hand side and ftp client files on the right side. Drag all the WordPress files to the right side to transfer them into FTP client.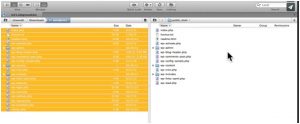 Create MySQL database for WordPress
After the files transfer moves to the web server, it shows the cPanel home this is common to most of the service providers. It appears like this-
Here click on the "[email protected]". WordPress saves content in the form of databases.
Now choose a name for your database and click on the create database. In the same page by scrolling down one can see My SQL Users block. Create a user by giving username and password. This MySQL user creation helps in modifying our database.
After creating MySQL user come back to the same page and click on the Add option by selecting your database and username. These redirects into a new page where you need to tick all privileges. This is to ensure that you have permission to modify the database.
Configure WordPress to connect to the new database
Now come back to ftp client where all WordPress files got transferred. Now select "wp-config-sample.php". Double-click to open the file and fill the database details like database name, username, database password in it. These were created in the previous step in web server.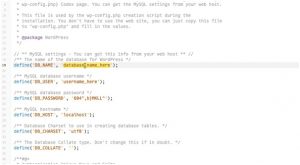 DB_NAME
The name of the database you created for WordPress in the above step.
DB_USER
The username you created for WordPress in the above step.
DB_PASSWORD
The password you chose for the WordPress username in the above step.
DB_HOST
The hostname you determined before.If a port, socket, or pipe is necessary, append a colon (:) and then the relevant information to the hostname.
DB_CHARSET
The database character set, normally should not be changed
DB_COLLATE
The database collation should normally be left blank
Now scroll down the page further below where you can find authentic keys. Unique authentic keys provide much more security to your website. So click on the HTML link available there and open in it another browser. This now generates a unique set of authentic keys and descriptions. Copy paste them back into the WordPress file from the browser and save the file.

Final installation and set up a new website
This is the final step of installation where you need open your web browser. Enter your website address; it is the name you chose for your database. Then WordPress immediately opens a new page. Details like site title, administrator username, password and email address are to b entered. The page appears like below image.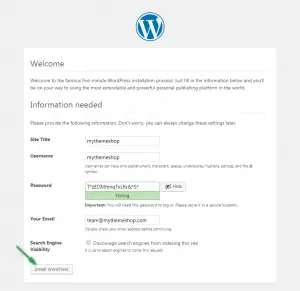 These details are very important for WordPress administrative area. Now click on the install WordPress button and it shows a dialogue box with success!
Finally, it is ready to create and customize your own website or blog. To open WordPress administrative panel and to manage your website enter the "website address url/wp-admin" in your web browser. For example -" installfinal.com/wp-admin".
Then enter the administrator username and password and click on the login button. It opens into a page like this. Here you can write your blog, customize themes on your site and many. In case of any error occurred during script running go back to database and MySQL steps to re-verify.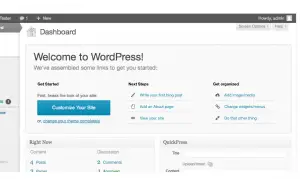 WordPress working is same as the old-fashioned practices of creating HTML, PHP and CSS files in the text editor and creating page layouts, images and many to create websites. In both ways, your web browser reads the code, interpret it and display the content in particular web page. Though final output is same, work got simplified with the use of WordPress. It saves a lot of time and very easy to edit web pages without learning HTML codes. In WordPress, one can easily import and export content from other websites and blogs.
There is one interesting article on How to Install WordPress on 000webhost. Have a look by at 000webhost.