Considering the powerful position that Django enjoys today in the world of open-source web platforms, the beginnings of it have been quite humble but rooted in one of the most important principles of all times. Necessity is the mother of invention. The early version of Django was meant to enable a Texas-based news publishing house to publish their news online. But in an attempt to make that happen, the developers ended up creating a framework that could do and support a lot more than that and the rest is history.
Today Django is present in so many areas and so many popular websites that it is hard to find those which don't make use of it. The decision to make it open-source led to the gathering of a developer community that worked towards harnessing the best of the platform. The websites that used Django kept growing steadily and speedily, with some of the popular applications of today such as Spotify and Pinterest, making use of Django for their framework as well.
Here's why registering for a Django Course can help you understand and provide the best that Django has to offer to companies across the globe.
Modern in its all-around definition
Put together in a nutshell, some of the major properties that define technology as modern are speed, stability, and security. This holy trinity is in itself one of the major hurdles to be surmounted for any kind of application, and the roots of it tend to lie in the choices made in terms of development language used and the platform opted for as well. Django truly is as modern as modern can be.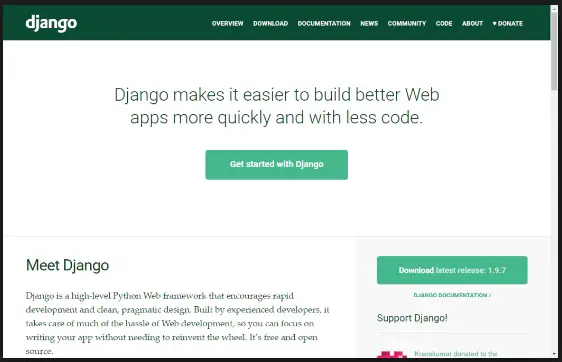 Application development?
No worries, as Django allows you to deploy your applications in a matter of hours with most aspects of development taken care of.
Execution speed?
A thing of the past, since Django brings itself some of the smallest load and execution times seen across any platform.
Implicit security?
You got it. Django keeps the source code safe and hidden, employing various measures that help protect from the most common and harmful attacks such as SQL injections, site scripts, and so on.
Well-optimized and well-supported
Nobody prefers writing the same code every single time when there's a functionality to be repeated or a condition to be satisfied. More and repetitive coding also means spending more time in weeding out errors and creating a gateway for unexpected bugs to creep through, which can take all your time in investigating the root cause of the error.
Django adheres to the principle of avoiding repetition at all costs. Rather than spending time in re-orienting the code for different purposes, Django relies heavily on the usage of variables and functions by making use of Python at its core. This cuts down heavily on codebase reuse and helps keep things lean and optimized. Similarly, the community of Django developers is extremely supportive in this aspect. With a good amount of documentation in place and packages to keep the platform optimized at all times, there are also certain rules that developers can abide by to develop code that is in line with the principles and helps Django perform in the best way that it can.
Reliability across various operating systems and platforms
As a framework that is meant to run web applications in the best way possible, it goes without saying that Django needs to be reliable in order to offer consistent functioning of the application in various scenarios. One of the ways it helps in making that happen is to keep things consistent once the application is deployed. This helps in easier management of the apps within the cloud by a single individual. At the same time, since the environment itself doesn't change, repetitive use helps in weeding out any anomalies and makes the app reliable than before.
In matters of compatibility, Django is system agnostic. Whether you are using a Mac or Linux or even Windows, the framework continues to operate just as it should without any differences. Django makes extensive use of object-relational mapping. This allows you to transition the application from one database to another across a platform, with only minimal changes to certain parts of the code. This separation between development and database is crucial in maintaining the integrity of the application.
The usage of Python as its core language and the ease in up gradation of the framework are just a few more reasons why Django has increasingly become the favorite choice of companies across the world. Software professionals with a Django Certification are prized due to this reason as well, and getting one for yourself can make you a favorite recruitment choice for such companies, too.