Why just wear clothing for the essential purpose of coverage and protection from elements? How about we adopt the world of beautiful technology and just make life much more trouble-free and less tedious? Well, of course, there is commendable headway in this field. This can be termed as intelligent garments.

There are certain textiles used for enhancing a skilled individual's performance. They are notably utilized for athletic, extreme sports & military applications. The features include vision, sense of hearing, sense of touch, communication, storage of energy, regulation of temperature, and monitor health. Smart fabrics can have both positive and negative impact on fashion, sports, and consumer products but mostly on military and medical industry.
They can be one of the quickest ways to obtain access to surrounding changes. They have an added advantage of changing color to show signs of danger or change into a camouflage to adapt into the environment in case of military requirements. The capability in a soldier's clothing will lighten their gear and substantially improve overall safeguarding. They can also be utilized for communication with the armed forces base stations during a hostile environment.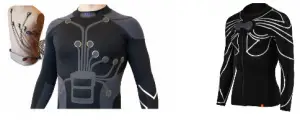 The field of medicine has the abundant number of reasons for smart fabrics to trend upon to make the tasks of the doctors much better by checking heart rates and vitals. Have you wondered how the fabrics change color or light up whenever you have watched dance performers making it so seamless and magical when they groove to the music? Generally, these materials can be powered on by a connection to a simple 9v batteries which light up the LED strip in one color or ultra-thin optical fibers, directly woven with synthetic fibers or you can also code the LEDs to change colors.
The luminous fabric or the fiber optic fabric, the light gets emitted through the full length of the fiber and then they are connected at the edge of the material to ultra-bright LEDs which inject light into the textile.
Sometimes they are so easy to design that you can turn your boring dress into something more attractive by adding some LEDs and batteries to it and voila! You have your light-emitting attire, and you can light up your world into something beautiful that you could imagine! They also come with some tremendous advantages, as they are very light, cost-effective, does not heat up and consumes very little power to glow up your world!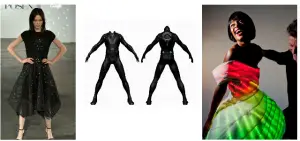 So, what goes into making these smart fabrics, so clever? Well, firstly they use of the material can range from traditional cotton, polyester, and nylon, to advanced Kevlar but the chief focus is on fabrics that can conduct electricity is much more beneficial. Mostly there is a fabric layer, then comes a stretchable conductor, a stretchable sensor. Some materials also are waterproof and windproof!
That might be hard to believe as clothes can easily get wet. There are also fabrics that are heat sensitive and can change color. Clothing reactive to light consists of smart pigments that will change color in response to sunlight. There are cases where people have problems with body odor, and there are materials that give off an aromatic scent that can reduce body odor, and can provide vitamins or reduce skin irritation. These materials can be layered to increase their handle, appearance or performance.
The applications of smart fabrics do not stop to only clothing but also expand in the fields of clever curtains, car seat covers, and bedspreads for children or patients. So, let's anticipate for an exceptional breakthrough in this area to make our lives more interactive and less mediocre.