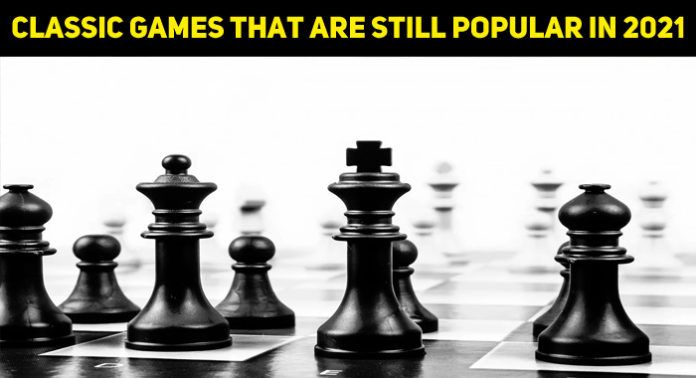 Humans love games and have done for millennia, but while some once-popular pastimes fall by the wayside, others manage to endure and remain widely played and enjoyed to this day.
Here is a look at a handful of classic games that are still managing to draw in plenty of players even in 2021.
Roulette
Created around three centuries ago, roulette is an ingeniously simple yet surprisingly compelling casino game that has managed to survive all of the years since its inception and thrive in the digital era when online gambling is growing in popularity.
From live roulette games streamed to players worldwide over the internet to the old-school land-based experiences still available at brick-and-mortar casinos in many countries, roulette has stayed in the spotlight. In contrast, many of its contemporaries have dropped off the radar altogether.
The simplicity of picking a number or color, placing your bet and hoping that the ball lands in your favor on that famous spinning wheel is certainly one of the main reasons it continues to entrance players in the 21st century.
Chess
Chess is arguably the polar opposite of chess; it may seem straightforward because there are limited pieces on the board with set movement capabilities and a predetermined start position for every game, but beneath this surface is a world of complexity that takes literal geniuses to appreciate and understand.
Indeed even attempts to 'solve' chess using supercomputers have raised more questions than they have answered, yet it is still widely played and enjoyed globally.
Once again, technology is helping chess to stay relevant, with streaming services like Twitch and online tournaments giving new generations a glimpse into the minds of top players and allowing modern pros to find an audience.
Monopoly
Monopoly is a strange one in terms of its enduring popularity and apparent timelessness because most game aficionados agree that, objectively speaking, it isn't even that good as an experience. Worse still, plenty of people play the game without sticking to the official rules, which can lead to all sorts of complications, and cause sessions to drag on and on interminably, or even cause family arguments.
This is a shame because when played correctly. Monopoly can be enjoyable, even if the element of random chance rather than skill is more impactful in determining the winner.
Monopoly is such a monolithic gaming brand and has been adapted so many thousands of times that it seems impossible to knock it from its perch, even with a raft of better-designed board games arriving on the scene since it was introduced.
World of Warcraft
While it may only have emerged in 2004, WoW is undoubtedly a classic in terms of the MMORPG genre as a whole and is, in fact, so venerable that a classic version is available alongside the up-to-date edition of the game.
Like the physical games mentioned earlier, WoW is most worthy of a place on this list because it has stood the test of time and seen off lots of different competitors while maintaining the attention of millions of people in the process.
It is also a testament to the effectiveness of developer Blizzard's game design sensibilities that WoW's basic formula is still fundamentally the same, even if the visuals have been updated and new content is regularly added.
Of course, none of these games is guaranteed to remain popular indefinitely, but the fact that they have made it this far is a good sign that they will stick around for many years to come.