Check out the Dell Inspiron One 2305
Inspiron One 2305, released by Dell, is a 23 inch full HD multi touch screen desktop system. This system has been designed to provide extra entertainment features like music, photos, Video playback with HD 1080P, games and web surfing to the conventional users. It also features VISION Technology from AMD due to which it provides advanced processing and great video power, and can be setup easily by simply plugging in one cord. It has glowing visuals with a 23-inch WLED backlit display.
It is environment-friendly having low power consumption and ENERGY STAR 5.0 compliance. It can be connected to almost everything with VGA. It has SPDIF, high-definition multimedia interface HDMI, 7:1 media card reader and six USB ports. It has enhanced the TV viewing and Blu-ray movies as it is optimized with optional TV Tuner and optional Blu-ray drive.And its powerful processing and stunning graphics will satisfy every user's needs.
Technical Specifications:
Athlon-X4 processor of AMD ® with the support of clock speed of 2.3GHZ and cache of 2MB.
500 GB to 1TB built in hard disk and built in DDR3-RAM form 4GB to 8GB
64-Bit Windows 7 Home-Premium Edition Genuine.
Discrete Graphics of 1GB form AMD-ATI Radeon 5450 & 1024 Graphics processor.
Built in VGA, HDMI, SPDIF, 6 USB ports and an integrated 7:1 media card reader.
LCD Display Screen of 23 INCH w / WLED back-lighting, 1920 x 1080 resolution screen, 1080P full HD and optional multi touch display screen.
Webcam of 2 Mega Pixel, built in Microphone and option of built in Wi-Fi and Bluetooth support.
CD / DVD Burner of 8X and Optional Blu-Ray CD/DVD.
90 Watts and 130 Watts Power Supply
Height: 16.54"/420mm , Width:22.44"/570mm, Depth: 3.54"/90mm
Weight: Non Touch: 16.76lbs./7.6kg, Touch: 18.74lbs/8.5kg
Working on Dell Inspiron One 2305:
Elegant design and advanced features in Dell Inspiron One 2305, and the multi-touch screen it possesses make it very attractive for mainstream users. One can experience the web, music and videos, and use favorite applications in a totally new delicate way.
One can toggle between windows, zoom in and zoom out the photos, launch applications and websites with the swipe of a finger. That makes it usable for whole family and everybody can enjoy the latest touch-optimized applications.
StickyNotes: One can write a note or type a message by touching on the screen.
Dell TouchCam: Once can edit and upload photos and video directly to YouTube or Facebook with the simple swipe of a finger.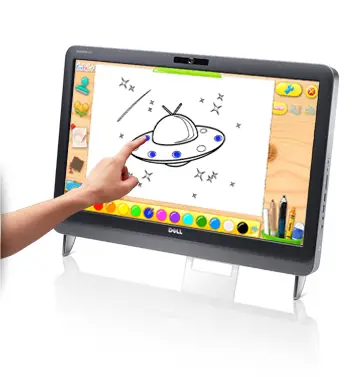 Cyberlink YouPaint: Paint and other touch games will endlessly inspire and entertain your kids.
Stylish Beauty:
Inspiron One 2305 desktop design is very elegant, by combining the monitor and tower, this compact all in one PC with the Full wide-screen is a complete solution for user's room or kitchen. The wireless keyboard and mouse can be placed neatly under the monitor for space saving. And the use of one power cord makes it to cut down the clutter and also makes setup more hassle free and simple.