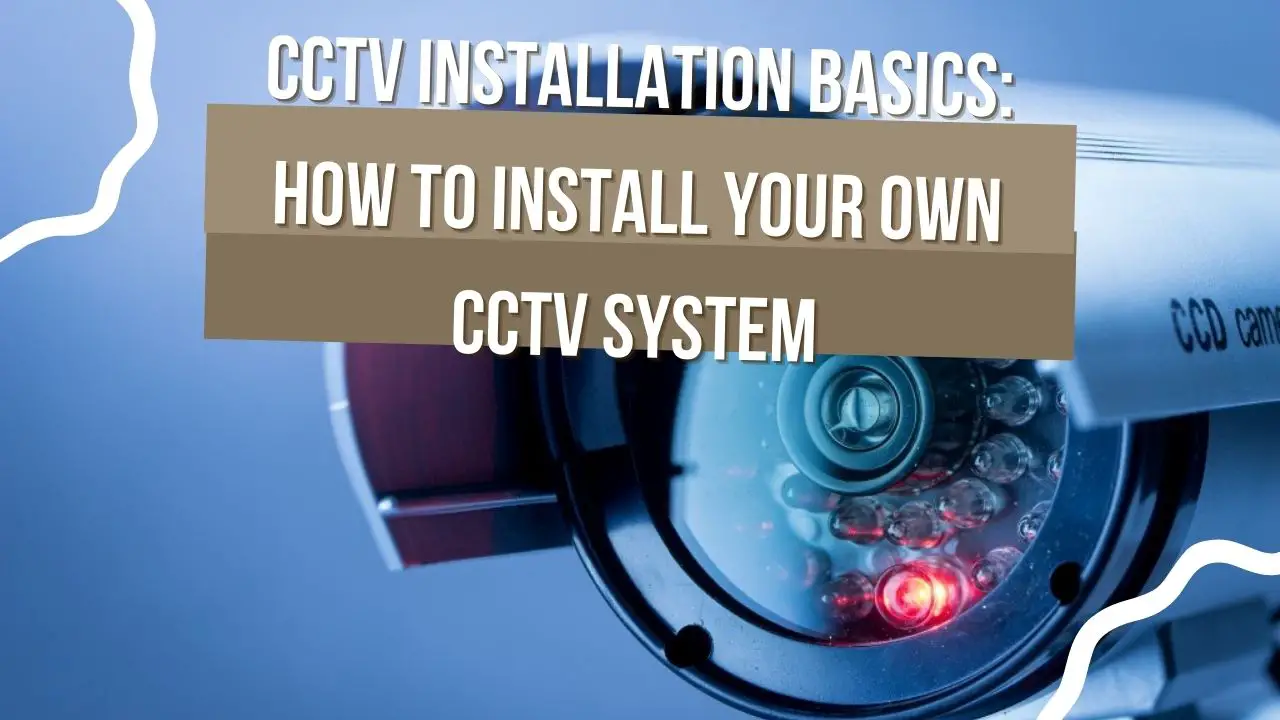 CCTV surveillance and monitoring systems are extremely common these days. People use them in both their businesses and homes to keep watch of their surroundings for security, safety, and other monitoring purposes. Your CCTV system may be highly complex or very simple depending on your requirements. Elaborate systems, especially for commercial purposes, typically involve many cameras, while domestic setups may have just a few cameras.
Installing such systems is usually done by a professional technician, but if you understand the basics, you can install your CCTV system yourself. Here are the basic steps to follow to install your own CCTV system.
1. Planning Stage
Planning is an indispensable step before embarking on any project, and this is no exception. It's important to have a clear idea of your purpose and requirements before you embark on the installation process. This will help you decide where  to position the cameras strategically, how many cameras you need, and the type of cameras, cables, recording system, and monitors you should choose that best fit your budget.
One of the biggest deciding factors will be whether you want the system for domestic or business purposes. It's a good idea to sketch out your plan with your requirements in mind – this will help you nail out any issues before you start installing the system.
2. Camera Installation
Once you've planned everything out, you can start installing cameras. Be sure to choose locations that will not be subjected to harsh weather conditions. If you have a wired system, also keep cable positioning in mind. Once you decide on the exact position of a camera, place the camera mount in your desired spot and mark through its holes. Then, you can drill holes through the marked points to place the screws and fix the mount.
You'll need to make sure there are power sockets available near the cameras for power supply. However, if you are using a PoE (Power over Ethernet) camera, its signal cable itself will supply the power, so you don't need to provide an additional power source. There are also wireless IP (Internet Protocol) cameras available which don't require cables at all.
3. Recorder Installation
A video recorder is an integral part of any CCTV system. This is the storage where you record the captured video to be viewed later as required. There are two types currently available: DVR (Digital Video Recorder) and NVR (Network Video Recorder). While a DVR receives signals from a traditional digital camera through the signal cable, the NVR is used when you use an IP camera. During installation, it essential to properly connect the recorder to the hard disk where the signals are stored.
4.  Cables And Connections Installation
Cables form essential connections between your cameras and the recorder as well as monitoring a live feed for the video. Connectors are also critically important – in CCTV systems, BNC connectors are typically used. As part of cable installation, make sure you use the right types of connectors to ensure they are  fastened correctly to your cameras and other devices.
However, you may also need HDMI connectors for your recorders. Try to draw the cables through corners  so that they are more discreet – it's best to use protective conduits and only drill holes in the wall if required. Once installed, connect each cable to the camera.
5. Recorder And Monitor Installation
Once the cameras are fixed with the cables connected, the other ends of the cables need to be connected to the recorder, which in turn needs to be connected to the monitor. For a multi-camera setup, you may need to use a camera switch hub, which allows you to connect all cables  to the hub input with a single output going to the recorder. The recorder is then connected to the viewing monitor using the appropriate cable and connectors.
6. Setting Up The System For Viewing
Once the cameras, the recorder, and the monitor are physically installed, make sure all cables are properly connected so that all the component devices are part of the system. You'll need to select the right input selection on the recorder so that the video signal reaches the monitor – check the CCTV system's instruction manual for detailed instructions, as these can vary between systems.
Once the CCTV system is installed properly and you start using it, make sure you check it periodically and perform timely maintanence. This will go a long way to ensuring that it continues to work well for years to come. Nowadays, CCTV surveillance technology allows you to connect the entire system to a router so that you can monitor the footage remotely online. This is a convenient way to keep an eye on your business or home from anywhere in the world using just your smartphone.