What is Big Data?
Big data, as the term suggest, describes the huge volume of data which cannot by processed by using the earlier form of computing techniques. Reference of these data can be done by either structured or unstructured for information. It is primarily dealt by large organizations. Big data is approaching from different sources at a tremendous velocity, volume, and variety. Big Data doesn't tally to any specific volume of data, but it is used to specify terabytes, petabytes and Exabyte of data and information.
Big Data is mainly based on its 3Vs:
1. Variety- The data that is received is in a different format such as in email, video, audio, stock ticker data and from structured to unstructured text documents.
2. Volume- Initially storing of data was a problem, but with Big Data, huge amount of data can be stored.
3. Velocity- Processing of data in a bizarre speed that must be handled promptly.
4. Veracity- It refers to the quality of the data. It is also referred to as validity or volatility referring to the lifespan of the data. Veracity is very significant for making big data operational.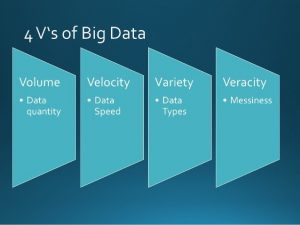 Why Big Data?
Data is the new oil. As the data volumes were just way too big, its high-performance analytic force one to be creative in oneself. Big Data does not only help origination by storing a large amount of data but also helps to identify new opportunities. It takes data from various sources and examines it to provide smarter business moves, more efficient way of functioning, and even higher profits. It enhances the organization's performance by
1. Detecting root causes of failures, and defects
2. Eliminates the risk causing elements.
3. Cost reduction- As Big Data stores a large amount of data; they provide cost advantages.
4. Improves the decision-making capacity- Big Data technologies such as Hadoop based analyses new sources of data so can analyse information easily and make decisions.
5. New products, coupons, and services- Depending on the sale and customers need, it can fulfill the need of the customers.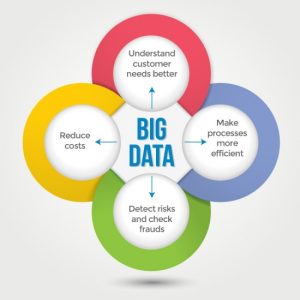 Big Data Technologies
Manage and process large volumes, a variety of structured and unstructured data in these days and protect data privacy and security, an infrastructure is needed to tackle the vast power of Big Data. Different companies like Amazon, IBM, Microsoft have introduced different technology to handle big data.
There are two classes of technology:
1. Operational Big Data: MongoDB is a system that provides operational capabilities, a platform where data is captured and stored. Hence workloads of big data operation are much easier to manage, and faster to implement.
2. Analytical Big Data: MapReduce is a system that provides a method of analyzing data that is commendatory to the capabilities of SQL.
Who is using Big Data?
Organizations, mostly every industry across the world is influenced by Big Data. Here's how different organizations use the technology:
1. Government- When government agencies control and apply big data analytics, the technology operates while giving the organization an integrative view of criminal activity. Though there are many advantages of big data, governments must also address problems of privacy.
2. Education- The overall goal of Big Data with education is that the tutors can make sure students have adequate progress. It is a better system for evaluation teachers and principals. It can help to create groups of students that will excel due to the choice of who is in a group with whom.
3. Hospitality- It can maintain patient records, treatment plans, provide prescription information, insurance information. Regular health checking should be done accurately and quickly. With this, health care providers can provide lifesaving diagnoses options almost immediately.
4. Retail- Customer service has advanced in the past years; the consumer relationship is critical to the retail industry. Big data analytics technology helps retailers meet the demands of the client, handle transactions, they can boost profitability, presume trends, propose new products.