The best websites for you to upload videos for free
In today's age of the omnipresent video-hosting services online, the freedom of expression and the platforms to show and share creativity are immense. There are tons of websites like YouTube and Youku which offer you the facility to upload videos for free. Out of numerous such websites, some prominent ones have been discussed below.
1: Sevenload (http://www.sevenload.com/) is regarded as among the topmost video-sharing websites. With the help of this online platform, you can upload and share videos along with watching the content uploaded by other users. On the basis of its options to upload media content for free, Sevenload has emerged as a successful video-sharing platform online.
2: Youku (http://www.youku.com/) is surely among the most upcoming and competitive websites by China which aim at video-hosting services. Youku provides you with the option to upload any video for free and also watch videos about different happenings and events. It is because of the versatility and vastness of the video content on Youku that it is turning out to be a strong rival for the giants in this field like YouTube.
3: Vimeo (https://vimeo.com/) is another US-based website which aims at video- hosting. You can find it having almost the same characteristics as some other video-hosting websites like YouTube, Dailymotion etc. have been offering since their inception. It is a great online platform to upload, share and view videos of almost all kinds. The website supports all the major video formats for example MPG, AVI, WMV, MP4 etc.
4: Viddler (http://www.viddler.com/) provides you with a huge opportunity to upload home videos and videos that may be entertaining and research-based as well. The supported video formats are the ones which you mostly use for your videos like 3GP, MKV, MOV, M1V etc. In the recent times, Viddler has got itself acknowledged being among the most upcoming video-hosting websites all over the world.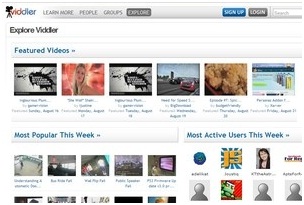 5: With a user-friendly interface, Tudou (http://www.tudou.com/) is another Chinese product, meant for those of you who like to rely on websites like YouTube.  Tudou has much to offer in terms of allowing you to watch and share music videos for free.
6: Tinypic (http://tinypic.com/index.php) is one of those social and video-sharing avenues online which are a complete package as an online option of uploading videos for free. Along with upload videos, photos etc. the users can also watch the available media content uploaded by other users of this platform. Tinypic can be regarded as a good alternative to websites like Metacafe, YouTube etc.
7: When it comes to finding a robust video-sharing platform online, blip.tv (http://blip.tv/) proves among the few names that come to mind immediately.  Blip.tv has been a great addition to the list of websites which cater to the needs of those of you who have a craze for uploading home and outdoor videos. The procedure of uploading a video is very much the same as the ones adopted by some other renowned social platforms of the same category.
8:  If you are looking for an online platform which may allow you to upload interesting and unique media content for free, YouTube (https://www.youtube.com/) can prove a reliable online source for you. YouTube is among the best websites which offer you the option of uploading your videos for free. It allows you to watch millions of other fascinating videos available on the website.
9: Liveleak (https://www.liveleak.com/) cannot be ignored while talking about the friendliest video-hosting websites for users of all ages and interests. You can upload and view videos for free over here. The website interface is decent enough to make it easy for you to find the desired links and options to upload and view videos of your choice.
10: Metacafe (http://www.metacafe.com/) is another video sharing website which offers you the opportunity to upload videos for free. The supported formats, of the videos to be uploaded, are MPEG, MP4, FLV, AVI and many more. The videos can be related to movies, music, video games, sports and anything. Metacafe is a kind of social networking platform for those of you who like to watch and share videos online.
11: Mejuba (http://www.mejuba.com/) is a promising video-sharing service on the list of major websites which provide video-hosting options and services. Those of you who are looking for online platforms to upload your videos for free and share them with others, Mejuba can be one of the best choices.
12: It's online platforms like 56.com (http://www.56.com/) by China which have strengthened the users' craze for uploading videos for free. 56.com is a complete video-hosting opportunity for all of you as it supports almost all video formats and allows you to upload videos nearly of all genres.
13: Dailymotion (http://www.dailymotion.com/) is among those websites which are just like YouTube. It is basically a French website for the purpose of video-sharing. It has been around since 2005.Dailymotion offers you all the options of uploading and sharing videos for free. You can upload videos to show creativity, share them with the online community, spread the message and so on and so forth. Almost all the well-known video formats are supported on this website.