Since the release of Kickstarter, the world has witnessed a boom in unique new inventions created by extraordinary geniuses, working alone and through their garage (well most of them do). There is just something there in these Kickstarter campaigns that compels a person to shed their money in the hopes of possibly backing the next Nike or Apple or even Mr. Clean.
It is a good augmentation of future reality and having the feeling that you are a part of a multimillion dollar company. Considering the number of campaigns that become successful with respect on the total amount of campaigns, you can sometimes end up losing your money or even worse, get nothing while backing a campaign. So, it is not the golden geese you thought it would turn out to be.
Speaking about successful campaigns, here is the list of the best Kickstarter campaigns of 2016.
Ruggie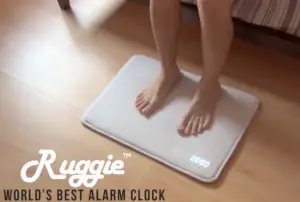 No one wants to get up at 6 in the morning and go to work. You are still feeling sleepy, eyes feel heavy, you are drowsy, and have to do some work which you probably don't even like. Now, Ruggie can't stop you from going to work but what it can do is to wake you up properly in the morning, so you don't feel sleepy while at work. Its premise is simple, all you have to do to stop this alarm from ringing is to stand on its memory mat for 3 seconds while your brains acknowledge that the body is now awake and is ready for some action.
Coolest Cooler
Coolest Cooler is certainly the "Coolest Cooler" there is. This handy little invention has been made keeping in mind everything a little outdoor party needs. The list of specialties in this cooler is very long and would force you to think how can so many things fit in a single cooler. It boasts a Bluetooth Speaker, a USB charger, LED lid light, Gear Tie Down, Cutting/Chopping board, bottle opener, and also a fricking 18v battery powered rechargeable blender. What more do you need for a party?
SPUD Collapsible Monitor
This product is said to be the boon for designers, travelers, and people-on-the-go. The company claims that this monitor can be folded into the size of a book and displays high-resolution pictures and images with a good color accuracy. This fact makes it a revolutionary product for creative people and people who often travel. It gives them a superior screen to work with rather than a laptop or tablet, and it does not occupy much space also like other projection devices.
Brixo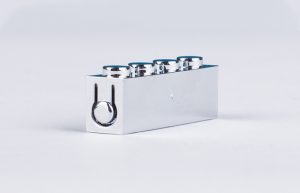 Brixo is a Lego themed attach and play kind of material with the added advantage of conducting electricity. It looks exactly like Legos, so if you are accustomed to that, then you will face no problem in creating cool new stuff with Brixo that works. Its functionality can be comprehended by the fact that you can attach your creations to your phone too using some apps. Brixo comes with Bluetooth blocks, light and sound blocks, and even sensors like proximity sensor. Time to let your inner engineer fly.
Vue Smart Glasses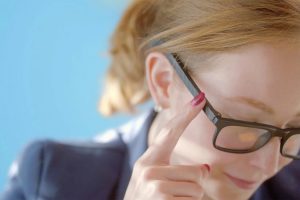 Granted that the Smart Glasses concept was first brought in by Google through their Google Glass, but that product failed miserably. Thankfully, though, the idea remained and is coming back for us in the shape of Vue Glasses. It looks like any standard glass out there but with all the "cool" functionalities. It doesn't have the bulky display screen of the Google Glass or the earphone which you had to wear everyday. It also has touch panels on the side which look like the frame. Commanded by your voice, Vue Glass comes in 3 colors and is also available as normal, prescription or sunglasses.
Fidget Cube
Fidgeting is the phenomenon of making small movements of hands and feet because of nervousness and impatience. While it seems like an occupational hazard for some people who often fidget, you can't do the "switch on, switch off" thing when you are in a meeting. That is why Fidget cube was created. It has six sides, all having different tools for the fidgeting. It lets you click, roll, flip, slide, spin and much more.
OLO
What is OLO you ask? OLO is a small, portable, easy to use, and smart 3D printer which lets you print 3D objects using just your smartphone light. If you are accustomed to any 3D software but never had the chance to bring out your creations to life because of the high price of 3D printing, then OLO is the product for you. If not, then no worries because OLO has a library of objects ready to be printed and displayed to your friends.
Kingdom Death: Monster 1.5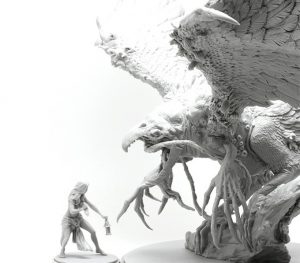 If you thought that board games are boring and don't rake in the cash as their digital counterparts do, then you will be amazed to know how much this board game has accumulated since its introduction to Kickstarter. This horror based board game was able to generate a million dollars in just 19 minutes. Its funding time is still going on, and it has since then collected a total of over 16 million dollars.
Riley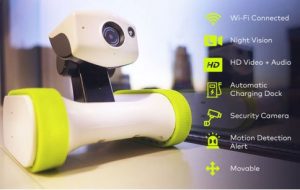 Sounds like Wall-E, isn't it? Wall-E might be out of our reach, but Riley isn't. Who doesn't want to have a personal robot making their life easier? Since not all of us are Elon Musk or live in Japan where robots are a common sight, Riley was created to fulfill that dream. This small and adorable bot comes loaded with wi-fi functionality, a webcam which can see in the dark and record HD videos besides taking high res photos, motion detection alert and much more. The best feature of this bot is not that it is very light and portable but the fact that when it is out of juice, it just goes to the dock and charges itself.
Blipcast
Possibly the best thing on the list. Certainly, my favorite, though. Blipcast is a very handy tool when you realize its possibilities. It is just a simple device which you can attach to any TV monitor displaying something. It then wirelessly sends the sound to your smartphone, and you can hear it by plugging in your headphone. It can be very handy in public areas like gym and subways where you want to see and listen to something but the device is not ideal for a headphone.