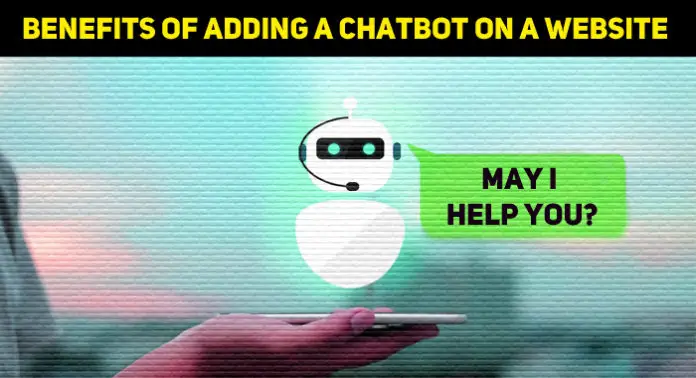 For customers, a website is the face of the company. That is why they often head to it to find new information, communicate with the organization, or make new purchases. If we look at it from a business perspective, that is an opportunity to grab onto.
Since the customers are already here, you can offer them what they need, guide them better, and cash on the opportunity to have lifelong customers. However, everyone can't have a huge team of representatives to handle the clients and answer their questions. The best option in such a scenario? Adding a Chatbot to your website.
A Chatbot is a pre-programmed interface on a website that allows visitors to interact and find the required information. These Chatbots rely on AI to understand a conversation and identify keywords in the conversation.
That enables them to have a back and forth conversation with the visitors and answer with multiple suggestions rather than pre-programmed phrases. Moreover, that makes the users feel like they are interacting with a human rather than a bot.
If you are here right now, then that means you are still wondering whether to add a Chatbot to your website or not, and it is even going to be worth it. Well, it certainly is, and here are a few benefits to prove that.
Benefits of Adding a Chatbot to Your Website
Around the Clock Availability
When you are in business, around-the-clock availability becomes an important part of your services. It used to be a competitive advantage that has now become a business norm. Almost every large organization, especially in the service industry, offers the option to their customers anytime.
For instance, companies such as HughesNet internet have 24/7 live chat and support teams for customers day and night. That allows them to offer additional value and never miss an opportunity to be there for their customers. You can do the same for your business as well by adding a Chatbot.
Adding a Chatbot to your website is not just about giving an option to your customers to drop a text, but it is more about adding value and being there for your customers whenever they need you.
The best part is that Chatbots don't need any leaves, they don't get sick, and they don't need to get tired. That means you can rely on them to be available for your customers at all hours. Continuous communication brings your buyers closer to the brand and makes them feel like they are valued.
The only downside to that is the capability of the Chatbots you are using. If you are relying on a Chatbot that cannot understand customers' questions and answer them properly, this will create a backlash and affect the brand image.
A Chatbot can't probably act like your friend who knows everything about your personal and professional life. However, it can certainly deliver a more personalized experience than reps who would ask for the conversation's context every time you get in touch with them.
Chatbots can access previous conversations from a specific customer and personalize the experience as per their needs. You might not think of it as an important aspect while choosing a Chatbot, which you will require from future Chatbots.
Your business website probably includes everything your customers want to know. However, most of the customers these days don't like to go from page to page. Rather than wasting their time finding something, they usually wish for a magic button to solve their problems or point them directly to what they need to know.
Adding a Chatbot to your website can prove to be that magic button. The bots might not be able to cut someone in two parts or pull a pigeon out of a handkerchief; they can certainly provide your customers with what they are looking for.
Increased Customer Interaction
Chatbots offer an additional channel for your customers to reach out to you and ask about their needs. Moreover, it keeps customers engaged and offers them multiple suggestions based on what they are looking for.
This real-time communication of Chatbots increases the overall customer interaction rate as they get the best response without any wait time. Along with that, adding a Chatbot to communicate convinces many customers to get in touch with your company which otherwise would not have asked.
While live chat is a great solution for handling customer queries, every business can't hire 24/7 support staff. The costs are usually too much, and not everyone can afford to pay for them. It is not just about paying monthly salaries; you also have to invest in their training and providing them with a proper and secure space to work.
In comparison to that, investing in capable bots majorly requires a one-time cost. Once the implementation process is complete, the extra costs will be quite low. You would probably have to spend money on ensuring security and improving it. Otherwise, bots don't need any salary, and you don't have to set up an office for them to sit.
Summing Up
Depending upon your business functions and needs, Chatbots can do different things for you. They are never tired, don't get annoyed, and never mind an angry customer. Moreover, they keep the conversation organized and natural. So, if you want to offer value for your customers and increase your conversion rates, it's never too late to add a Chatbot to your website.