The problem with Lithium-ion batteries is that they tend to become highly volatile when they malfunction, and this has been the case with Samsung Galaxy Note 7, where the faulty batteries exploded due to overheating. The explosion occurs when Lithium ions of the battery are deposited at one spot as metallic Lithium, and reacts with the oxygen bubbles produced due to overcharging, causing a fire.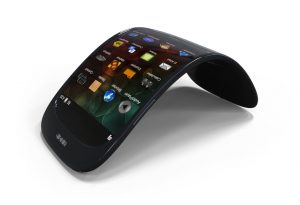 To avoid such problems with regular batteries, Panasonic may be coming up with a new flexible and bendable Lithium-ion battery that can power up wearable devices like smartwatches, fitness bands or even bendable smartphones in the future. The laminated external and internal structures of the new bendable batteries prevent any kind of damage due to leakage or overheating, making it safer and reliable.
The bendable batteries are still in the early stages of development and have been tested, where it has proved its ability to withstand deformations. Unlike the regular Lithium-ion batteries used in smartphones that degrade when deformed, the bendable batteries can hold the charge even when flexed and twisted, thus elongating the device's operating time.
The thin-film Li-ion batteries or bendable batteries are similar to regular batteries in composition but are made of thinner materials that measure only a few nanometers in thickness.
The batteries consist of the following parts:
Substrate
Electrolyte
Current collector
Anode
Cathode
Separator
The electrolyte material used for bendable batteries make the basic difference between the new batteries and the older regular ones. LiPON (Lithium Phosphorus Oxynitride) is used as the electrolyte material in the batteries. LiPON is an amorphous material.
This current collector material forms a solid layer for anode-cathode conduction. The collectors are flexible, having high surface areas and made up of low-priced materials, like Silver nanowires (although it is not cost effective). Research is going on to include graphite technology and CNT (Carbon nanotubes) in making flexible batteries.
Separator materials are used to prevent any blockage in the transportation of lithium ions and also for avoiding any contact between the cathode and anode materials that may cause short-circuiting of the battery. In the bendable battery, the separator is solid, which enables the physical separation of electrodes and helps in ion conduction too.
Specifications:
The thickness of the new battery is only 0.02inches or 0.55millimeters
It can be bent to a curve with a radius of 25mm
The batteries can hold a charge within a range of 17.5mAh to 60mAh, which is still very small compared to the batteries, available in the market, that can hold 1900mAh or more charge, For this reason, right now, Panasonic is planning to use these bendable batteries for devices that require small charges.
Application areas of Bendable batteries:
Recently, wearable technologies and electronic textiles have become a major area for technological advancements. Invention and development of flexible batteries for powering the wearable devices and smart clothing have become necessary.
Medical devices: These batteries can be used in implantable medical devices (defibrillators or neural stimulators or pacemakers) because of their advantages and convenience over regular batteries.
Storing solar energy: Flexible Lithium batteries can also be used to store energy collected from solar cells because they can be stored for longer periods of time for having low self-discharge rate.
Smart cards: It is not convenient to use a regular battery in smart cards since the cards are subjected to harsh conditions and temperatures. It is much more reliable to use a bendable battery for smart cards since these batteries are capable of withstanding temperatures of -40 to 150.
Bendable batteries can also be used for Radio Frequency Identification (RFID) tags and wireless sensors.