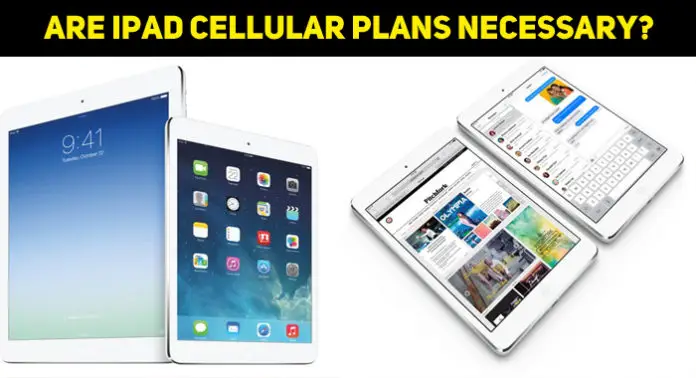 When purchasing an iPad, there are several options to choose from. You have the choice of different screen sizes, different amounts of storage, and, of course, the different models, such as Air and Pro. All of these require some serious thought, but one option that can significantly affect the usability of an iPad is whether it has a cellular data plan attached to it.
As connectivity becomes more ubiquitous, connection speeds and bandwidth increase, and remote computing capabilities improve, the amount of our processing workload handled in the cloud is increasing. This makes devices like iPads more viable as fully-fledged workhorse machines, but it also places more reliance on a connection to the cloud.
For iPads that are either WiFi only or do not have a data plan, there are greater restrictions on the device's usefulness since they can only access cloud services when in range of a WiFi network.
iPad Cellular Plans—What's the Difference?
Given that iPads connect to the same network as regular cellular phones, why would they be different from a regular data plan? There is indeed no difference between an iPad plan and an iPhone (or any other phone) plan from a device perspective. If you were to take a compatible SIM card out of your phone and place it in your iPad, it would connect to the cellular network just fine.
The issue is that an iPad does not have the same functionality as a typical cellular phone. iPads cannot connect to the voice or text messaging part of the service being offered. This is not a problem in the sense that it won't work. Still, more cost-effective plans are usually available that do not include calls and text messages, so it is economically wasteful to use a standard cellular plan with an iPad.
Is an iPad Cellular Plan Required?
An iPad is certainly not without its uses when not connected to the Internet. However, those uses are quite restricted compared to a connected iPad. That being said, it is possible to use an iPad online without an iPad cellular data plan.
WiFi Hotspots
There are more opportunities to connect in an increasingly connected world than ever before, from free WiFi in eating establishments to hotel rooms and even on flights. Accessible WiFi is far from ubiquitous, of course. Still, there are plenty of places to connect an iPad to the Internet, and planning trips accordingly may eliminate the need for a data plan.
Tethered Phone Connection
Most modern smartphones come with the capability to "tether" via WiFi, allowing an iPad to connect to the phone as though it were any other WiFi network. This may be a practical option in situations where a particular phone and iPad will always be traveling together.
Advantages of Cellular Plans
iPads that come with cellular data plans also come with GPS antennas—something lacking from the WiFi-only models. This means iPads can be used for things like directions, finding local listings, and most other things that are location-based.
Another advantage is that with the increasing popularity of messaging platforms, the iPad won't have access to voice or text messaging needn't be a factor. There is a wealth of communication applications available, and the chances are most sufficiently large organizations will use at least one of them.
How to Tell if an iPad Supports Cellular Data
If an iPad is cellular, it will be clearly stated by your vendor. However, if you have come into possession of an iPad and are unsure whether it supports cellular, the easiest way to check is to look at the top back of the device. If there is a thick white or black band across the top, it has cellular, where the antennae are.
Conclusions
While it is possible to use an iPad with great productivity without a cellular connection, cellular data plans remove the reliance on WiFi networks and phone tethering to get online. This makes the iPad a more effective tool for people traveling since they will be able to access their remote apps and documents as long as they are in the range of cellular service.