It is no surprise that mobile applications dominate the marketing industry with their practical approach and the kind of exposure they are providing the brands with is unparalleled. There are billions of applications downloaded till this year, and the numbers are constantly growing with great momentum. This era is the technological era, and if business owners are still not leveraging it for better results, they are doing something wrong.
Atimi Mobile Development Company, the full-service mobile application development firm based in Vancouver, specializes in the design and development of mobile applications. And with their extensive experience and expertise in the area, they have curated the App developer's checklist below.
Mobile app development is certainly not an easy task, and there is definitely a lot of planning and strategizing. Creating an application for your website is definitely an overwhelming task. Still, once you have a complete idea of what you are looking for in the application, you can accomplish your goals easily.
If you plan to have an application for your website, having an app developer checklist is a must. It helps you track the goals that you want to accomplish but also makes you feel a little less overwhelmed. Below, the expert developers at Atimi Softwares have created a development checklist that will help you cover every important element of your web application.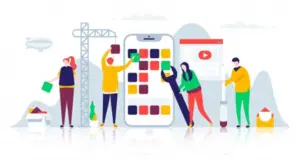 Business Objective
The very first step of building an application is deciding on the objective and business strategy. Defining your business goals will help you reach your target audience more effectively. You can easily make adjustments to your applications in their initial stages of the building once you have the clarity of the goal.
Here are a few questions that you must ask yourself while creating an application for your business:
What is the objective of making an application?
How will your business objective be fulfilled by having an application?
Do you have a product roadmap?
What are your direct competitors doing, and how are they using their application to increase brand engagement?
Technology Requirement
The industry has offered us various options and approaches in building an application, and selecting the kind you want for your business is a crucial aspect of it. When it comes to the technology requirement, here are the questions to keep in mind:
Are you building an app for android or iOS?
Which approach will you be using for your mobile, Native or Hybrid?
What are the advantages and disadvantages of both the application approaches?
Which app development approach will fulfill your requirements the best?
Will your app need Cloud-based infrastructure?
Is the application integrated with the device's features?
Development Criteria
Now that you are clear on the technical requirements of your application, there are decisions to be made on the development end. This is where your idea of an application will start taking shape, and this phase will decide how millions of users will view your application.
Are you creating an in-house application?
Do you have an in-house team who are expert enough to complete every stage of building an application?
Will you be hiring a mobile app development company for building an app?
Do you have a budget for your mobile app development?
Have you created a time frame for your app?
User Interface Details
User Interface is certainly an important aspect of an application. The improved user interface is actually one of the main reasons behind having an application for your business. A good UI can help you achieve your goals much quicker. Here is the checklist you should consider when it comes to deciding on the user interface.
Do you have a basic idea of how your application is going to look?
Have you decided on the orientation of your application of whether it would be in Landscape mode or portrait?
Are you considering optimizing your application for an easy transition from one orientation to another?
Security Measures
Having an application security checklist should not be avoided when you are creating an application. You need to consider the sensitive information that will be stored within the application and how you can mitigate the risk to save your app from any potential data breaches.
Have you set up two-factor authentication for your application?
Are there going to be sub-admins added to your project?
Who will have full control over access to the application?
Have you set up an integrated payment gateway?
Is your application compliant with different industry security standards like PCI DSS or HIPAA?
Testing
Testing is the last stage of the development process of application. After your application is created, you need to check how it's performing on different devices or any bugs or errors that need to be fixed.
Atimi Software
With its expert team of mobile app developers, Atimi Softwares is leading the industry by offering the highest quality services in the industry. Their highly qualified and experienced team of professionals understands the customers' requirements and provides them with beyond satisfactory results.