Technology is progressing at a faster pace than never before. Virtual Reality and Augmented Reality are the two promising areas of study in the technological advancements for obvious reasons. These two terms have been the buzz words for over a year, and one doubt among all of us is: what's the difference between them? The two realities differ in the perception of our presence.
VIRTUAL REALITY:
Virtual Reality (VR), is a simulation of 3D virtual environment where users can feel their presence and experience 4 of the five senses: the artificially simulated audio, touch, sight, and smell. This VR ignores the real world; it transports the user into a virtual world. It requires wearing a head mounted display to view the virtual world and it blocks out the field of view.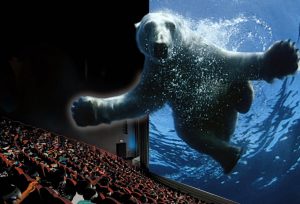 AUGMENTED REALITY:
Augmented reality as the name sounds augments the real world, the view of the world to be precise. It is the combination of the real realm (surrounding environment) with the virtual reality. It doesn't transport us to any place or any world but adds computer-generated images or any similar information to the existing environment.
Let us understand the difference by considering an example. Owing a Pokemon is one of the biggest goals for kids in their childhood. On this basis, the game 'Pokemon Go' has been developed that brought AR to the public. In Virtual Reality, one can get completely immersed in the Pokemon world and play with them forgetting about the real realm. Where in considering the augmented reality, one can play the game by finding Pokemons in the real world.
Both the realities differ, but the ultimate goal of the AR and VR is to immerse the user in the virtual environment. Now which technology has the upper hand over the other? Well, it depends on various factors.
In VR one must wear a head mounted device to get immersed in the virtual environment, where this isn't necessary for AR. An example of AR device is a Google glass, but the user need not have it on his head to experience the 3D environment. The wearable used in AR are lighter, smooth and more comfortable than VR devices. But AR devices cost more than the VR.
As of now everyone is executing VR, and everyone is excited about AR.
WHICH LEADS THE FUTURE?
With this, we feel AR is leading over VR, but both the technologies have their advantages and limitations. AR seems to be more social as it involves the real environment, but VR isn't going to lose the bet. Facebook is an example that is trying to intensify the VR technology. Its goal is to make the VR more social and also it is going to create a new prototype known as OCULUS TOUCH to handle the digital environment of Facebook. Also one of the co-founders of VR says that the mobile is the future of VR.
The two technologies don't work independently and are not always contradictory but are sometimes combined to achieve a great experience. By considering all the factors, we can say that the answer as 'both.'