If we talk about creativity and fulfilling our imaginations then Adobe Photoshop has provided the best platform to run our imaginations wild and create the things that we never have envision before. The program developed by two brothers for editing digital images have revolutionized into a tool in these 25 years of its development that is now a source for the designers, artists, photographers and many more professional fields to present their work to the world in more attractive and breathtaking ways, which can truly mesmerize the viewers by its versatile charm.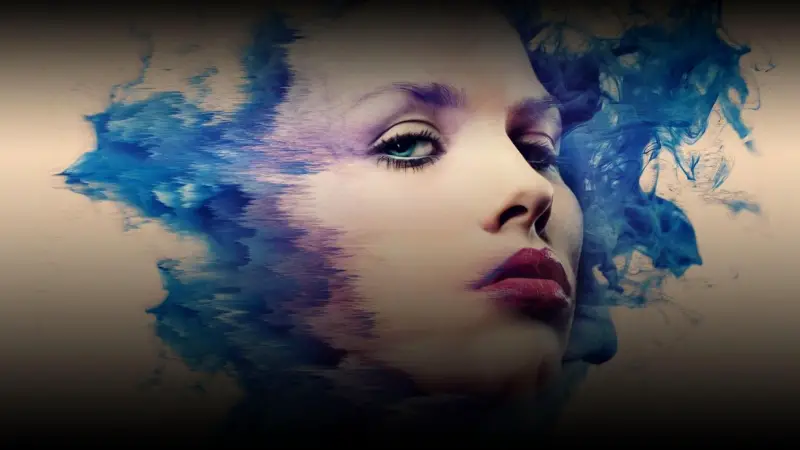 It is now consider as the essential tool for the creative and visionary people. Now it's been used as a source for creating a better quality images, web pages, ad campaigns, apps, product prototypes, movie sets, games and so much more. Specially the new release of 2015 Adobe Photoshop CC also known as Photoshop Creative Cloud has utterly captivated the professionals with its totally new features that have made it possible for them to access their work from anywhere, any time at any device without any hazel.
Adobe representatives have done thorough and time taking research to make this new release of Creative Cloud more beneficial for designers by adding new features specially been asked by several of them. The new features included in this latest version of Photoshop has major improvements to the design work. It includes Artboards, Creative Cloud Libraries, Layer style Improvements, Glyph Panel, iOS Previews, Design Space and many more substantial features that truly ease the work of the professionals.
Artboards
Well I really think it's the best ever feature Adobe has provided to designers. By using this feature within a single document you can create multiple design surfaces. It helps construct the different interactive artboards with different size and style according to your need. Now with it you can devise all the design templates at a single space for your desktop, iPad, iPhone and other devices. You can view them at a time and also share the layers and contents between them for further convenience. You can also export the single or multiple artboards at a time according to your need. It really alleviate the work of professionals by providing everything they need on the single document.
Creative Cloud Libraries
Besides providing the ease of access and organizing of your work data, the best new feature of Creative Cloud Libraries is its linked Assets. Yes, Assets in Photoshop CC Libraries can now be linked so that when the changes are done to them, they can also be accessible to all the collaborators of the creative cloud library. This feature is driven by CreativeSync, which provides all of your team to have the ease of access to all of your Photoshop files, designs, settings, fonts at anywhere at any desktop and Creative Cloud mobile apps. You can easily reuse the assets save in CC Libraries.
Adobe Stock
The Adobe Stock option provides millions of images for use according to your need and now it have been integrated in Linked Assets and Creative Cloud Libraries. With this the work has been more lighten for the professionals as they don't need to go search for their required images and data on any other platform. Now it's all been provided at one platform you are working on. Search your required image in Adobe Stock and play with it according to your need. When you see it's now been developed as you wanted, just click once and license your image and non-watermark image will automatically be updated in your work space.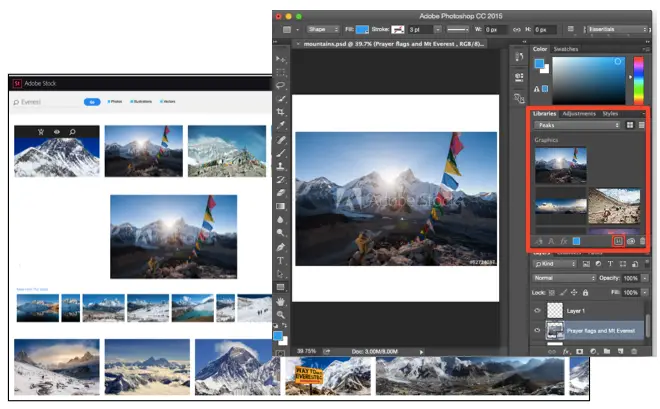 Adobe Device Preview
Another important and in need feature provided by Adobe Photoshop CC is Device Preview. With Device Preview CC you can now see your mobile app and web layouts in real time on your iOS devices like iPad and iPhones; check out your work at real interfaces, how they look and what changes are needed to make it more presentable. To view the device preview on your mobile you have to install the Preview CC app which is easy to integrate with.
Asset Export
The new Quick Export option of Photoshop CC has made it easy for the clients to smoothly export the images and designs to JPEG, JPG and PNG format. Now it even provides the option of SVG format for better results. By this option you can export multiple layers from your document to another one. The process to export the assets in Creative Cloud is very simple. Just go to export option in file menu and follow the process.
Glyph Panel
Adobe has launched the new Glyph Panel in this new release of Photoshop CC which provides the users easy browsing of all available glyphs in a font style. Now you can also access the previously inaccessible glyphs. This great feature has also made it child's play to view the alternatives for the currently selected glyphs.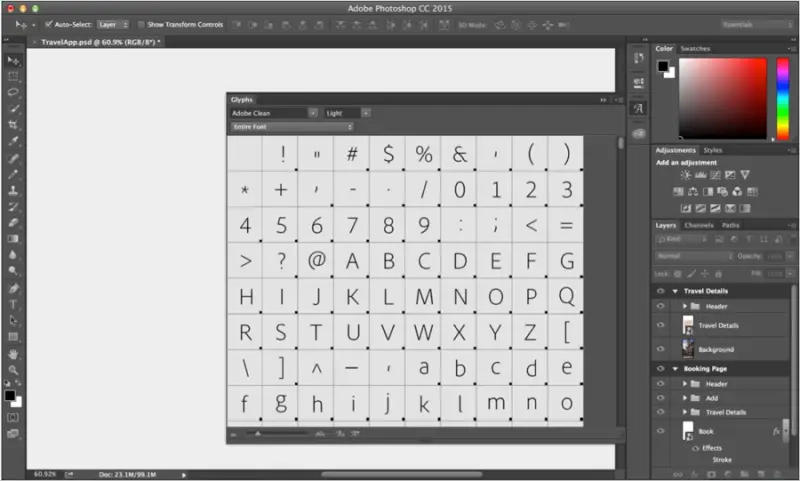 Design Space
This new feature of Photoshop CC has fascinated the Web and app developers as it has been introduced specially for them. Built of latest coding's and scripts like HTML5, CSS and JS, it gives a complete new look to the work space. The whole Photoshop Design Space is optimized for the web and app designs.  It helps in minimizing clicks, mouse travel, dialogs and panels. You can easily switch between your Design Space and Photoshop CC for advance image editing according to your requirement.
 All in all this latest version of Adobe Photoshop provides the better results to professionals and give them better interface to run their imagination with better tools and tricks and smooth sailing towards the resources which never been previously seen in any of the other versions of the Photoshop. If you are creative person and running low on better platform my recommendation to you is this latest version of Adobe Photoshop CC 2015. It provides you the exceptional and real caliber work.