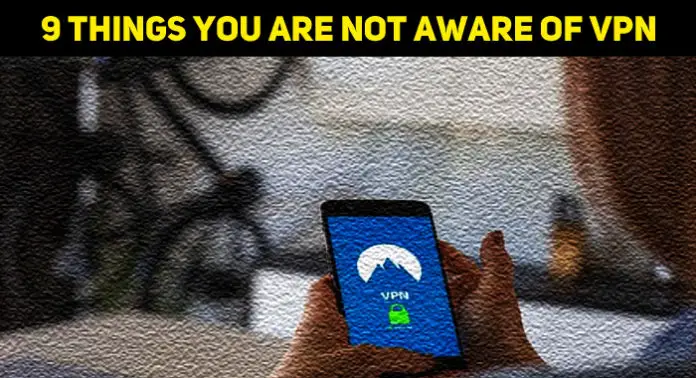 Many people are using VPN as a measure of security when they are surfing the web. This is not a surprising matter on seeing the increasing surveillance of users activities on the internet nowadays. VPN is ideal for use by various groups of people including travelers, and TV streamers. The following are 9 things you didn't know about VPN.
1. Protect Your Identity
The ISP controls the speed of the internet connection that you are getting. Now and then, the ISP is checking your website activities to find out how you are using the internet. They can track down your computer IP address to find out your location. They will also determine the amount of bandwidth that is needed for optimal performance.
If your ISP did not approve your website activity, he could throttle the internet performance. As a result, it will take time for the website to load, or the pictures on the webpage tend to appear grainy. However, if you use a VPN, your IP address will be masked and you are assigned the IP address of the remote server. VPN will prevent the exposure of your website activities to your ISP so that they cannot throttle your internet connection.
2. Freedom of Speech in Commenting Online
VPN allows you to have freedom of speech on social media. The government can track down everything you make online. If someone doesn't like your comment, the person could sue you. Your employer could fire you if he knows you are making comments online during working hours. To prevent this, you must keep your online identity hidden. VPN can create a secure tunnel that encrypts the data that is transferred to the internet. With VPN, your can protect your and you can comment without fear.
3. Securely Access Public Wi-Fi
Free South Korea VPN by AdGuard can provide security when you are accessing public Wi-Fi. It is suitable for you if you frequently visit the libraries or cafeteria to use free Wi-Fi. Third parties can easily access public Wi-Fi because it is accessible by everyone. You use a shared password when you are logging onto public Wi-Fi. Using a VPN to encrypt your information prevents people from scrambling your data when accessing public Wi-Fi.
4. Download Files Anonymously and Safely
VPN allows you to download files on the internet anonymously and safely. Malicious third parties will no longer be able to track you and infect your computer when you are downloading something from the torrent. Copyright companies will not be able to track you. There is a lot of usable content which you can download legally online. You should not use a VPN to download or upload illegal content. You can find the legal content and a VPN will guide the data through an encrypted tunnel.
5. Shop Online While You Are Abroad
VPN can route your internet connection via an international server. With a VPN, you will be able to access websites that are blocked by a firewall. For example, if you are traveling in China, you can use a VPN that will route your internet traffic through an American server to allow you to shop at the US Amazon site. VPN enables you to access Paypal in countries that have banned it. This makes VPN a wise choice for use in international shopping.
6. Stream Blocked Content
VPN allows you to stream blocked content on the internet. Many countries ban movie players like iPlayer, which puts restrictions on streaming TV shows. Sometimes, you have to travel outside and you may be having a favorite television series that you want to catch.
7. Protect You From Hackers
Hackers can enter into your network through your IP address. If you use a VPN, you will be connected to an off-site server. A different IP address will be assigned to you so that the hacker does not know your actual IP address. In this case, any attack will be directed to the VPN server.
8. Download Apps in Foreign App Store
There are different versions of Google Play App and iTunes App stores, depending on the location you sign in. You can't register for an account in an app store that is not based in your country. However, if you have a VPN, you can sign up for an account in the foreign app store. You can use VPN to install and download apps that are not available to your country in the app store.
9. Switching Servers When the Internet is Slow
The VPN can slow down your internet performance sometimes. When your VPN is not operating optimally, your pages will not be able to load properly. The download process will hang halfway. It can be frustrating to experience a lag in the internet connection. When this happens, you should switch off your VPN and switch servers. As a customer, you should have access to many servers. The more servers the VPN provides, the faster is the internet performance.
Before you buy a VPN, make sure you check the server count. Before you turn off the VPN, you should try to connect with a nearby server.