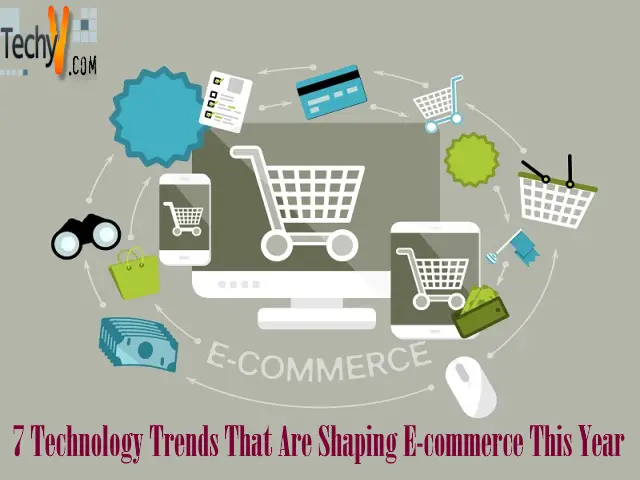 If the first few months of this year have taught us anything, it's that such uncertain times can call for quick changes to sales and marketing plans. And all these new plans require technology to work. Here are the seven technology trends that are shaping eCommerce in 2020.
Businesses worldwide had to evolve really quickly and change anything they knew about doing business so far. With their trade shows, events, and in-person sales being canceled for an unlimited time, for now, all brands had to adapt to the new "normal" to stay in business.
What's the new normal? Selling and buying online, in one word: eCommerce.
In 2020, as the ongoing Coronavirus pandemic has put the entire world in lockdown, consumers have turned to online shopping to purchase the essentials and the other items they can't get from temporarily closed physical stores. In other words, if your business doesn't already have an online store, now is probably the time to make this step.
If you are just starting to build your eCommerce presence, you should keep these seven technology trends in mind when building your online store.
1. Consumers are buying from their smartphones
The Internet, smartphones, and eCommerce are making a great trio in 2020.
Data from Statista show that there are over three billion smartphone users today, and the number is forecast to grow by several hundred million in the next couple of years.
In the US, mobile retail is forecast to be worth $339 billion this year, up from $207 billion as it was only two years ago, in 2018. Now, this is no surprise since over 125 million Americans are smartphone users.
Now, with people having access to the Internet literally at their fingerprints on their smartphones, it's no surprise that they are now using these devices for online shopping. What's more, consumers also use their smartphones to research products, not just to make purchases. In fact, data suggests that a third of consumers' decision to buy a certain product is the result of online research from a mobile device.
However, only 12% of consumers think that shopping using their smartphones is convenient. Thus, there is a lot of room for improvement, and you'd better make sure that your online store is different, good-different.
2. Social media is driving mobile sales
Social media is huge these days. There's no need to question the power of social media platforms when it comes to doing business. Don't believe us? Find out that social media posts of brands are what led to over 55% of online shoppers to buy products.
Social media brings the product the customers needs only one click on a link away. When clicking on the link within a social post, customers are automatically redirected to a product page where they can finalize their purchase.
3. eWallet technology is no longer optional
Fintech has reshaped the way people make payments these days. Physical bills are no longer convenient to carry around when you can simply pay with a piece of plastic or your own phone. What's more, in 2020, as people purchased goods online to avoid physical contact, more and more consumers have opted for online payments. In fact, data shows that in 2020, mobile wallet payments are forecast to account for $500 billion.
Thus, allowing your customers to use fintech apps such as their mobile wallet is no longer optional if you want to stay in business. Ewallet technology helps your business boost sales and conversion rates because this tool gives customers the ease of use and increased security when it comes to their payments. Customers no longer waste time and effort entering their credit card information on websites that offers both convenience and enhanced security.
4. Personalized product recommendations increase sales
Imagine this: you visit an eCommerce website for shopping, but the site only recommends products that you don't need and aren't even anywhere close to your taste. The chances are that you immediately leave the website and look for another one. The same would do your prospects if your online store didn't personalize the recommendations it displays.
In fact, if you still don't realize the importance of personalization in product recommendations, hear us out: 45% of customers are more likely to do shopping on a website that provides personalized recommendations. What's more, 56% of online customers are more likely to come back to websites that offer them product recommendations.
5. eCommerce platforms are getting popular
With all businesses trying to make a transition to the online ASAP to stay relevant for today's customers, it's only normal that eCommerce platforms are getting a lot of attention these days.
Take Shopify Plus, for example. The eCommerce platform powers over 500.000 businesses in 175 countries, including big brands like Tesla, Nestle, Red Bull, and many more.
What's great about eCommerce platforms like Shopify is that they remove the need for a lot of time to install software, hire an army of developers to support it, or a lot of money to get your business online.
Using eCommerce platforms, business owners can easily and quickly get their business online and start selling in no time.
6. Cognitive supply chain management is gaining momentum
Can you estimate how much supply you need to create based on the demand trends? The chances are that you can't make 100% accurate estimations, or you don't have the time to gather all the data to see how much you must produce.
But, here's the good news: cognitive supply chain management can help you with this. Driven by AI and machine learning, cognitive supply chains are self-learning, predictive, adaptive, and, well, intelligent. Overall, these systems help businesses improve customer service and decrease inventory.
7. Voice search is gaining popularity
It looks like consumers are getting more and more comfortable to speak their queries to their devices. In fact, this year, 50% of all Internet searches are forecast to be done using voice search. What's more, voice shopping is expected to reach $40 billion by 2022. And, considering how fast eCommerce is growing lately, we'll surely see more consumers adopting this trend.