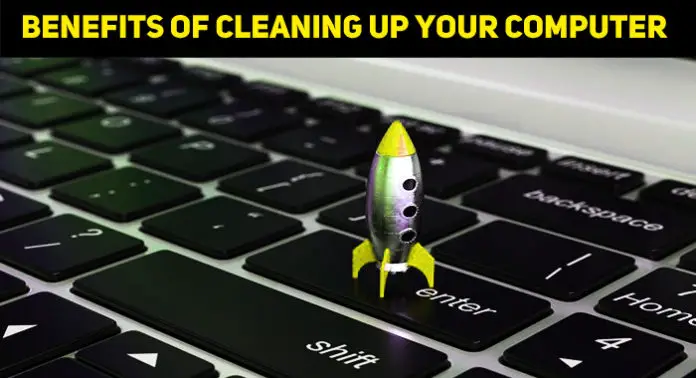 When you first get a new computer, the speed is unreal. It's easy to find what you're looking for, and everything works effortlessly. But within months, everything can change.
Your system is running hot. The CPU is overloaded. Programs are competing for memory. And minor actions seem to confuse the system, leading to long waits and building frustration.
Is it time to buy a new computer? Probably not. But it sounds like it could use a cleaning. Here are seven distinct benefits you'll immediately notice when you do.
1. Faster Search Time
If you're constantly downloading clever images and files online to spruce up your social media or enhance your work documents, you can end up with a lot of clutter.
This isn't just an eye-sore. Your computer has to work harder to find what you're looking for.
It takes time to go through this mess. But if you develop a system now, you can avoid further build-up of useless junk.
Develop a folder naming system.
Move files immediately into folders.
Delete files immediately after use if you only need them for a temporary task.
Rename files to something you can recognize if they download with strings of letters and numbers. This way, you can find it and go back and delete it when you're done.
Using a free PC cleaner can also help you eliminate endless duplicates, partial downloads, and other trash clogging up the works.
2. Free Up Capacity
How hard is it to move around in a cluttered room? There's plenty of space for you to turn around and get from here to there. But you constantly have to move things to find things. Piles fall over or bruise your legs as you stumble over them.
How do you think your computer feels? When your storage is too close to capacity, it constantly has to shift things around and reorganize to make room.
It may have to store part of a file over here and the rest over there because there's nowhere big enough to store them together.
It runs inefficiently.
Free up some space, and it can store and retrieve much more effortlessly. That amounts to more incredible speed and improved processing.
Look for files that are taking up a lot of room. You may have a file you don't regularly use, taking up a lot of room. Offload this onto the cloud if you think you might need it later. Or delete it and free up space.
3. Stop Running into Storage Caps
"This drive is full." It's annoying to get messages about no space to store a file constantly. You have to free space up on the spot if you want to proceed. What a waste of time!
You'll save a lot of time by taking the time to clean it up ahead of time, so you're less likely to run out of space and get these messages.
4. Eliminate Errors and Corrupted Data
Many events can lead to errors and corrupted data. Once they're there, the system will try to skim over them. But they cause hurdles over which processors have to jump.
Seeking out mistakes and eliminating them smooths out processes, so everything works faster and better.
Generally, you'll need specialized software to find and eliminate these files. But this should certainly be part of your plan to clean up your computer.
5. Eliminating Viruses
Hopefully, you run an antivirus all the time. But things can get through and lie dormant. They may not be active. But they can still muck up your productivity.
Cleanup is also an opportunity to identify viruses and other malware that don't belong on your computer. Whatever its purpose, your machine will perform better when this malicious code is removed.
6. Stopping Behavioral Tracking Online
We're accustomed to the fact that much of what we do online is tracked. And it can enhance the online experience if this tracking personalizes how we enjoy a website. But there is such a thing as too much of a good thing.
Empty your cache and website cookies to refresh your online experience. This will also speed up Internet performance and reduce hangups.
7. Increase the Lifespan of Your Computer
How do you feel after a day, a week, or a year of overwork? Are you burned out? Your computer can burn out too! And just like you, it will give warning signs like sluggish behavior, making mistakes, and just not functioning at its best. A computer can only manage so much clutter and corrupted data before it gives up.
A clean system runs more efficiently, so there is less work needed to complete processes. That can significantly enhance performance and how long you get to enjoy that computer.