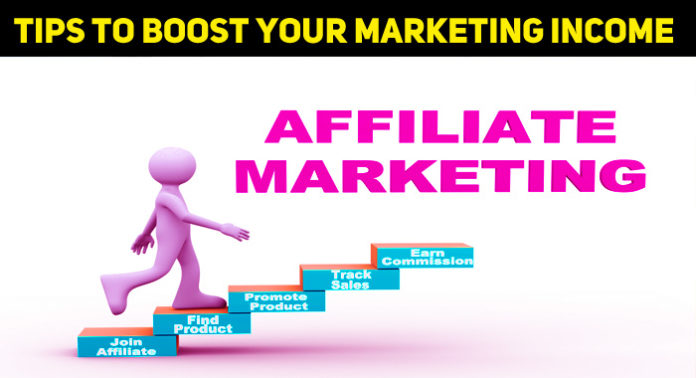 Affiliate marketers earn money through referrals or commissions. As an affiliate marketer, you devote plenty of time and energy to establishing a good online presence to rank high in search engines to promote better the products you endorse for affiliate marketing.
You're probably at the average income level of an affiliate marketer. But, are you happy with the money you get?  Is it all worth your time and sweat?  What can you do to increase your earnings?
Below are some tips on boosting your affiliate marketing income.
Promote High Ticket Affiliate Programs
As an affiliate marketer, you can make more money without relying on major marketplaces by promoting high ticket affiliate programs. If you want to double or even triple your income, choose high ticket affiliate programs that offer recurring commissions or monthly payments.
High ticket affiliate programs provide affiliate marketers with a huge commission or affiliate income with fewer product sales. The recurring commissions compensate the low-end commission rate with USD 1,000 or more per referral or sale.
Here are some examples of high ticket affiliate programs that can boost your affiliate marketing income:
Health and wellness affiliate programs
Travel affiliate programs
Precious metal affiliate programs
Web hosting affiliate programs
Finance affiliate programs
Investment affiliate programs
Precious metal affiliate programs
Promote Seasonal Products
Many people are willing to spend money on products in season, such as Christmas or Valentine's Day. So, it's practical to promote seasonal products early to be on top of the competition. Marketing in-season items to your audience give them added value and relevance, increasing link clicks, referrals, and commissions.
Check the following seasonal products you might want to consider promoting on your website:
Decorations, such as Christmas ornaments, for the holiday season
Heartfelt presents for Mother's Day or Father's Day
Teddy bears and chocolates for Valentine's Day
School supplies and bags for back-to-school months
Add Call-To-Actions (CTAs)
You have tons of articles or blog posts, and they comply with the search engine algorithms of search engine optimization (SEO). It's good that you have visible web pages in search engine results pages. But are your affiliate links easy to find when readers click your web pages?  Online readers scan articles and tend to click on whatever they see is prominent on the web page, like a CTA button.
Call-to-actions tell your readers what they can do next. When you use CTA buttons, online readers can easily spot the items you promote for affiliate marketing. As a result, you're able to obtain more clicks and increase conversion to increase product sales and your affiliate income.
Use the appropriate color of the CTA button based on the products you promote. Red stands out, while orange is warm and exciting. If the products have something to do with psychology, peace, or the environment, use green for your CTA.
Check the following CTAs for affiliate marketing to help increase your commissions:
Subscribe
Grab (name of the product) now!
Don't miss out!
Add to wish list or add to cart
Watch now
Click to save
Use Tables
You can also get more affiliate link clicks by using tables. Add a prominent table where readers can see a summary of products you endorse at the top of each article to get more clicks.
Readers can compare different products easily using tables. So, how do you create tables?  You can check your content management system or website builder if you have a built-in table feature you can use to add prominent tables in your blog.
Strategize Your Offers
Affiliate marketers should strategize their offerings to boost their affiliate marketing income. Whether you offer discounts, freebies, or other promotions, knowing the right timing is the key. It would be best if you got readers to click on affiliate links.
But, do you know where you can find them?  How do you turn their search action into a buying action?  You can boost your affiliate marketing income with the following strategies:
Improve your SEO strategies for higher organic traffic and conversion rates.
Encourage your loyal customers to share the good news about your website and your products via social media.
Diversify your affiliate channels, such as your social media pages and guest blogging.
Provide valuable and helpful content to your readers not found elsewhere, such as tutorial guides and inspiring video content.
Conclusion
You've learned some of the best ways to boost your affiliate marketing income. With your hard work, patience, and dedication, you only deserve higher commissions to satisfy your needs and even your wants in life. Implement the right strategies, and find new and unique ways to promote your offerings to spark interest and encourage more clicks and purchases.