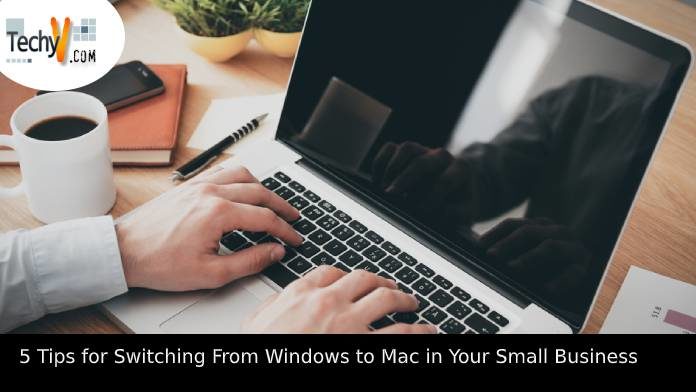 So, you're thinking of making the switch from Windows to Mac?
Depending on your needs, this can be a great move. Although both operating systems offer something for everyone, sometimes when you go Mac, you don't go back.
If your business is making the switch from Windows to Mac, you may be wondering what features or learning curve may come with it. No worries, we've got you covered.
Here are five tips for switching from Windows to Mac in your small business.
1. The Operating System: macOS Is Easy to Learn
People praise macOS, and this is mostly due to its "just working." If you're looking to make the switch, the first thing you should know is that the learning curve is a small hill to climb, but a super lovely journey.
macOS is arguably cleaner than Windows; it offers less customization but allows the user to adapt and get used to its functionality quickly.
If you have an iPhone, which a lot of people do, macOS works seamlessly. If you choose to connect your phone to your Mac, you can analyze documents on the go and even upload content to your desktop from your home.
Not only is this great for your business, but it also offers more flexibility if you need to be away. Also, you have an Apple Watch, and you can even unlock your MacBook from your Apple Watch screen. Talk about magic.
2. You Can Still Run Windows
If you run a business that may need to use a Windows-based application, do not fret. With Apple, you can run the two operating systems through Boot Camp Assistant. With Boot Camp, you can have the best of both worlds!
In some cases, too, Windows may run smoother on your Mac due to Apple's excellent optimization.
3. Transferring Your Microsoft Office Suite Is a Breeze
Microsoft Office is available on Macs, and if you have an existing Microsoft Business Account, you're still able to download, login, and use all of your Microsoft Office software. This is great because Microsoft Office is still the reigning king of workflow productivity.
4. Finder Is Your Friend
Finder is the best way to get your Mac organized, the little smiley face on your bottom of your screen allows you to organize all of your photos, work documents, presentations, you name it.
This way, everything on your Mac is neat and tidy.
5. Be Prepared for Sticker Shock
Macs are expensive. Sometimes it hurts.
However, if you brace yourself for the inevitable increase in price tag, you will feel a lot better. Macbooks are notoriously expensive because, well, they're built incredibly and have very well-optimized software.
The debate of "does a Mac last longer than a PC?" is inconclusive. However, they usually offer a positive user experience for the cost, and most Mac users do keep their computers for years on end.
Moreover, if you still are unsure of the hefty price tag, Apple does offer various incentives for business customers.
The Best Tips for Switching From Windows to Mac
Switching from Windows to Mac doesn't have to be scary, and these tips will help you with the preliminary moments of change. Before you know it, you will be a Mac expert.
Want to learn more about software, technology, and business? Check out our website for more information.