According to statistics, more than 80% of users are subscribed to at least one brand account on Instagram. That's why few people today doubt the value of this platform for business.
At the same time, companies have long begun to pay attention to creating a unified brand image: a profile cap, color schemes, composition, and a unified style of photo processing. But many people forget that a user pic is as much a part of the account as anything else.
Why? An Instagram profile photo is a brand's calling card. It's the first thing users see when they visit your page.
Imagine walking into a bakery with a big counter full of pastries. They're usually behind a glass display case, so you can't taste their flavor. What kind of brownie will you buy? Probably the one that looks most appetizing.
The same goes for your user pic. That's why your Instagram profile picture is more important than it may seem at first glance.
From this article, you'll learn how to make a clingy Instagram user pic to make it stand out on your account and draw attention to your personal or commercial brand.
How big should your Instagram user pic be?
An Instagram profile photo appears at 320×320 pixels and a 1:1 aspect ratio. It appears as a small circle on smartphone screens and the desktop, so make sure it displays everything important.
For a high-quality user pic, it's best to upload an image with a higher resolution of 1000×1000 pixels or more.
You'd think, why even bother with such small pictures? Do they really have any effect? Sure it does. While it's true that an Instagram profile picture is exceptionally modest in size, it is an integral part of the brand and its positioning.
One of the important aspects here is recognition. An Instagram profile photo is kind of like a McDonald's logo. There is always a specific image of a brand or person behind the user pic, so it's worth spending a little time to make it right for you.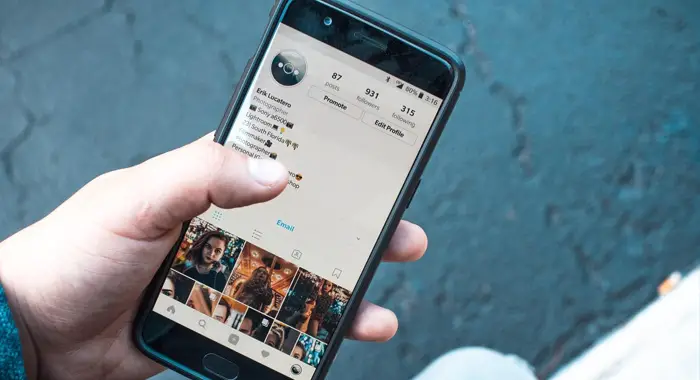 Tips for choosing and designing an Instagram user pic
Put everything important in the center
Creative photos are more suitable for the feed, but they can be a problem for the user pic. To make your profile photo catchy, make sure the focus (whether it's a portrait or a logo) is centered.
Also, try experimenting with poses and angles. In most cases, a slight tilt of the head or camera angle while taking the picture will make the photo feel more genuine and intimate with the audience.
Another tip is to beware of low angles. After all, you don't want potential subscribers looking at your chin or nose.
Choose a photo with good lighting and contrast
Your Instagram profile photo should be easily recognizable, even if it looks like a tiny icon. The muted, barely distinguishable hues on a user pic can just blend into a single blur on a thumbnail. That's why it's essential to have a clear boundary between the background and the subject.
If you want to put your personal photo on your user pic, natural lighting is the best way to make the shot look professional, even on your phone. For example, you can find good light on the street or at home in front of a window, and you may remove background from image online. It's best to use something neutral and muted as a background. The simpler, the better.
If we're talking about a logo as a user pic, color contrast will also help. Make a simple background and ensure the text or logo contrasts sharply with it.
Retouch the photo
There's nothing wrong with adding some retouching and filters to your photo. The main thing here is not to go overboard with the processing and make it as inconspicuous as possible. Remember that the secret to good retouching is to make the image better, but leave it as natural as possible.
Consider your aesthetics and line of work
Your profile picture is your calling card to new and potential subscribers. So make sure that your user pic fully or partially conveys the meaning of your posts and stories, stating what you do, which is an integral part of your Instagram positioning.
How does it work? For example, photographers might keep a camera as a prop on their user pic, a food blogger a tray of desserts, a cooking cap or a whisk, a makeup artist a makeup brush, a construction contractor a tool of some sort, etc.
If you want people to perceive you as an expert or business person, it's best to forego homemade selfies as user pic. Get a professional to take good portrait shots, or find a friend with a professional camera.
Another important point is that the colors on the user pic should match the overall color palette of the brand that appears most often in the feed.
Conclusion
An Instagram profile picture seems like a small detail, but it's part of a larger mechanism called "Positioning." Your occupation, what your goals are, whether your aesthetics and outlook are close to your potential subscriber – all this information can be gleaned from one small picture.
That's why a profile picture should represent you or your business well, be easily identifiable and stand out from the crowd. Don't forget the effective use of colors, contrasts, and space.