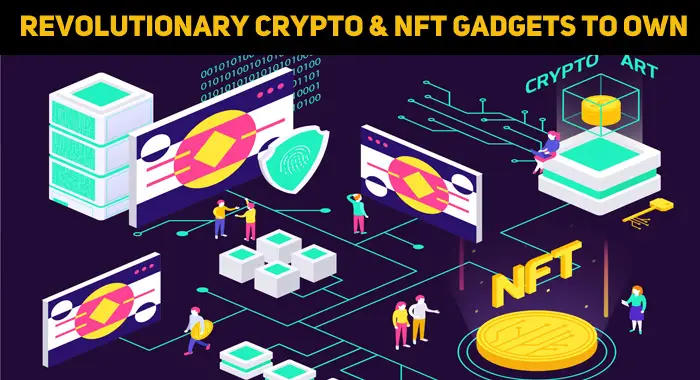 When Satoshi Nakomoto initially created blockchain technology and cryptocurrency, the excitement amongst enthusiasts slowly bubbled away in the background. Not only was the technology unique, but also it showcased a new technology for processing transactions without a centralized authority.
The whitepaper was first collated towards the end of 2008 in response to the financial crash caused by central banking. Satoshi Nakomoto wanted to create a peer-to-peer transaction system, which negated the need for financial institutions to oversee the transaction.
Underpinned by the highly sophisticated and secure blockchain solution, it guaranteed a secure and public record of any transactions performed on the service. Nowadays, the technology powers key transactions in the iGaming, entertainment, and various other industries, as you can see here: https://www.bovada.lv/bitcoin.
By taking a look at 5 of the most revolutionary crypto and NFT gadgets you can own, we will hopefully be able to highlight just how advanced some of the technology is in this space.
Cold Storage Wallets
When purchasing cryptocurrency, you want to ensure that your money is as safe as possible. Having it held on an exchange is usually safe, depending on the exchange. However, recent issues at FTX have highlighted that if you want to hold your cryptocurrency for a sizeable period of time instead of day trading, it is highly advisable to store it in a cold wallet instead of an exchange.
You can purchase a cold wallet and transfer it onto the drive, so they work differently from standard computer record storage. As it is offline, nobody can break into the wallet or hack into your cryptocurrency. This is a gadget that a lot of cryptocurrency traders use to ensure their investment remains secure.
Digital Frame Displays
When NFTs were first devised, the idea of digital art was frowned upon by many. Physical art collection has long been an investment for wealthy individuals. By purchasing it, receiving proof of ownership, and holding it for a considerable time, many have turned a decent profit.
As NFTs use blockchain technology, the proof of ownership is verified on the blockchain authentically. It cannot be duplicated or broken off into different sections of the blockchain.
The ability to project NFTs in a gallery has been helped immeasurably by a revolutionary NFT gadget called a digital frame display. This allows NFT owners to display their art in galleries and for people to go and view them, much like a physical art gallery.
If you own an NFT and want to have the ability to project it, this is a must-have piece of equipment.
Smartphone
The smartphone revolution that has taken place over the last decade has completely transformed our world. Having the ability to trade cryptocurrency or own an NFT from anywhere in the world is arguably the most transformative feature in the digital asset universe.
The accessibility has transformed the digital asset class into a multi-billion-dollar market from a small and relatively niche investment.
Whilst the likelihood is that you are reading this on your smartphone, the revolutionary aspect of these devices cannot be understated. People who primarily trade from a PC are at a disadvantage to people who can check the markets whenever they want.
Automated Trading Software
During the early days of cryptocurrency trading, automated trading software was in its infancy. Many investors had to meticulously examine the market to sell their cryptocurrency at their chosen price. Many exchanges now offer automatic buy and sell orders that will usually be executed at the chosen price, provided that liquidity is available on the exchange.
However, one piece of software that many traders implement into their strategy is automated trading software that you can use across several exchanges. If your cryptocurrency is held across several different exchanges, this tool could help you manage your funds.
Using one piece of automated trading ensures you can avoid the backlash of one of your orders not being honoured at your chosen price. Obviously, there needs to be liquidity on the exchange too, which can sometimes be a problem in times of high volatility. However, if you use automated trading software, you are trading more responsibly and allowing yourself to manage any losses.
Smartwatches
Much like the reasons we described for the smartphone, a smartwatch allows you to check on your investments while moving. If you are out on a run or exercising, you may want to leave your smartphone at home but still want to be able to check on your investments.
The device is ideal for those who check their portfolio on-the-go, as it provides the speed, portability, and convenience needed for the modern-day crypto trader.
While it isn't the most essential gadget on our list, it still has unique benefits. The ability to check your cryptocurrency whilst on the move is essential in a world where investing has gone from business hours to a 24/7 market.