5 best free File cleaner/disk cleaner tools
There are many factors that slow down computer. Files and registry entries are constantly been written and deleted. The problem however is that these actions often leave footprints in their trail which end-up slowing down the system.
These include creating registry gaps, invalid entries, duplicate entries, invalid shortcuts and lots more. This is where disk-cleaners come in, 5 of which particularly stand out.
Revo Uninstaller 1.90
This Editors' favorite is a unique product in a class of its own. Built on a light 1.5MB base, it beats all expectations of a mere uninstaller. The name 'uninstaller' is a little restrictive in describing this multi-purpose software with amazing tools. With an amazing interactive GUI, Revo uninstaller comes with a super uninstaller, a junk files scanner/cleaner, a windows administrative optimization tools and autorun manager.
The unique feature of this amazing product is its ability to force remove programs you cannot remove with windows standard uninstall function. After completing the applications in-built uninstaller, Revo scans your system for left registry items that may continue to encumber your system.
Advanced Uninstaller Free 10.1.1
This amazing program incorporates an in-built program install memory that stores and remembers all the changes made to your system while installing a program. It simply reverses all the stored changes to uninstall the program when you so desire. It therefore has the ability to remove any program without leaving any trace of the program such as non-functional start menu shortcuts which slow down your system.
Eusing Free Registry Cleaner 2.6.3
This great product rapidly detects registry issues that clog your system and inhibit performance. It detects help files, shared DLLs, programs fonts, invalid shortcut paths and all other invalid entries. The result is a stable, faster system. Everyone is very careful when it comes to deleting registry entries, but with this product, that fear has been taken care of because Eusing Free Registry Cleaner backs up all deleted registry entries and has the ability to restore your system's previous registry.
 Wise Disk Cleaner Free 5.71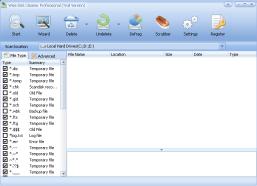 The first thing that strikes users about this innovative product is user friendliness.
Once you can cope with the nuisance requests to upgrade, Wise Disk Cleaner free is an excellent product to use. The unique feature of this product is that it puts you completely in control. You are allowed to choose the folders and drives to clean. You can also choose between the option of permanent deletion or sending files to the recycle bin and the result is an obvious improvement in computer performance.
 Win Utilities Free Edition 9.92
The uniqueness of this program lies in its sleek combination of several useful functions that enable you manage both security and performance issues within a single user-friendly interface. Of special interest is its single-click maintenance function incorporating a duplicate file finder, task scheduler, file shredder, registry defragmenter, and registry rebuilder lots more.
The Memory Optimizer function of WinUtilities Free Edition 9.92 ensures that memory is released in such a way as to improve your computer speed and performance.