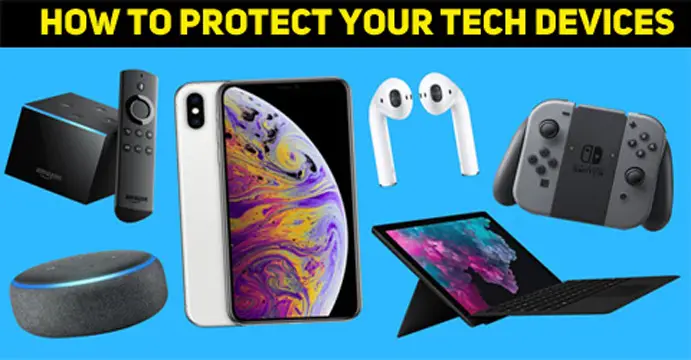 After spending hundreds, if not thousands of dollars on a new tech device, the last thing that you want for it is to become damaged or broken. If you don't want to end up throwing out your latest gadget before you've even had a chance to take full advantage of it, you need to go above and beyond to protect it. To find four things you must perform this all-important task, be sure to read on.
Invest in protective equipment
Make no mistake about it; you will drop your new smartphone, tablet, or laptop at some point in the future. To ensure that this accident doesn't cause too much damage to your tech device, you must invest in proper protective equipment. This will help to break the ensuing fall and, in turn, will increase the chances of your gadget coming away from the situation unscathed.
Steer clear of cybercrime
Physical damage isn't the only thing you need to consider in your bid to protect your technological devices. If you're not careful, your tech tools could be attacked internally by cybercriminals. Should this happen, you could end up being frozen out of your devices and, in turn, you could find yourself having to pay over the odds to regain control of them. Quite simply, if you're serious about protecting your tech devices from all angles, you need to steer clear of cybercrime. One of the most essential things to remember in this instance is that hacks and scams can come in all shapes and sizes. You could, for example, come across an innocent-looking email, only to find that is full of malware that, if clicked, will ravage your operating system and render it obsolete. If you want to avoid this plight, be sure to check out the in-depth analysis of email spoofing provided by Proofpoint.
Perform regular software updates
To aid you in your attempt to steer clear of cybercrime, you must ensure that your operating system is constantly safeguarded by the very best layer of protection known to man. Obtaining this sort of protection isn't as hard as to come by as it sounds — all you need to do is perform regular software updates! Cybersecurity specialists don't release updates for any good reason. Each time they make a new update available, it's because they've found a new way to fend off the most dangerous hacks, scams, and viruses of the day.
Take out insurance
No matter what length you go to protect your tech devices, accidents can and will still happen. Unforeseen circumstances that are completely out of your control will rear their ugly heads from time to time, which means that you'll never truly be capable of safeguarding your gadgets from all harm.
Fear not, however, as gadget insurance is on your back in this instance. Once you insure your tech device, you will be able to get on with your life safe knowing that, even if the worst-case scenario does transpire and your device does become damaged, it will be fixed or replaced without question.