Internet technology helps people keep in touch with each other. We can do it via simple messages or calls, but the closest way to real-life communication is video calls. Meeting apps like Zoom are gaining extreme popularity among users. To make your app successful, you need to add enough features at the development stage to correspond to users' requirements. This article will help you if you still haven't found a strategy to monetize a video calling app. In it, we single out the main ways of video chat app monetization.
How to monetize a video chat app
Statistics show that mobile messaging applications' revenue will reach $6 billion by the end of 2020. This sphere is highly competitive and rapidly developing. COVID-19 pandemic made such apps a necessity. That's why defining the way your iOS or Android video chat app will make money crucial.
The first thing you need to do is create the MVP (Minimum Viable Product). After building this product version, you will see whether your application can make money and the most suitable strategy. Here are the most common ways of making money on a video chat app.
1. Advertisements
Most free applications use this strategy for making money. The developers don't earn money directly from users. They collaborate with advertisers to earn money through contracts with them. The more popular your app is, the bigger the business opportunities. Usually, there are three main ways of charging companies to advertise on your app: cost-per-click, cost-per-mille, and cost-per-action. Cost-per-click type charges the advertising company for each user interaction (click) with the ad. Cost-per-mille charges for each 1.000 interactions. Cost-per-action presupposes paying for desired user actions, such as installing applications or purchasing products.
2. In-app purchases
This strategy enables users to purchase goods and services inside an app from any device. Installing and using the basic features of the application is free. The developers then promote upgrades, unlocking new features, and special offers for items. If the user wants to utilize the extended functionality, they need to pay for this content. It makes the video chat app profitable but available for users for free at the same time. However, the video calling app development process is more time-consuming if you want to employ this strategy.
3. Subscription
Another popular strategy to make money out of a video calling app is through subscriptions. Products and services are only available to users by purchasing a periodic subscription. The key method in this strategy is role-based access control. It restricts access to app functionality according to the role. The more they pay, the broader the functionality they are allowed to use. This method can be utilized to define user segments relying on the interest to use the paid options.
4. Pay-per-conversation
This strategy is used by leading video chat applications such as Zoom and Skype. If users pay extra, they may add more participants to the conversation, have unlimited video call time, and use additional features like sharing the screen and transcriptions.
Now that we've reviewed the most widespread ways of making money on a video chat app, let's focus on attracting more users.
Must-have features for making a video chat app successful
Here is the list of features to make your application competitive and profitable in the video chat app market.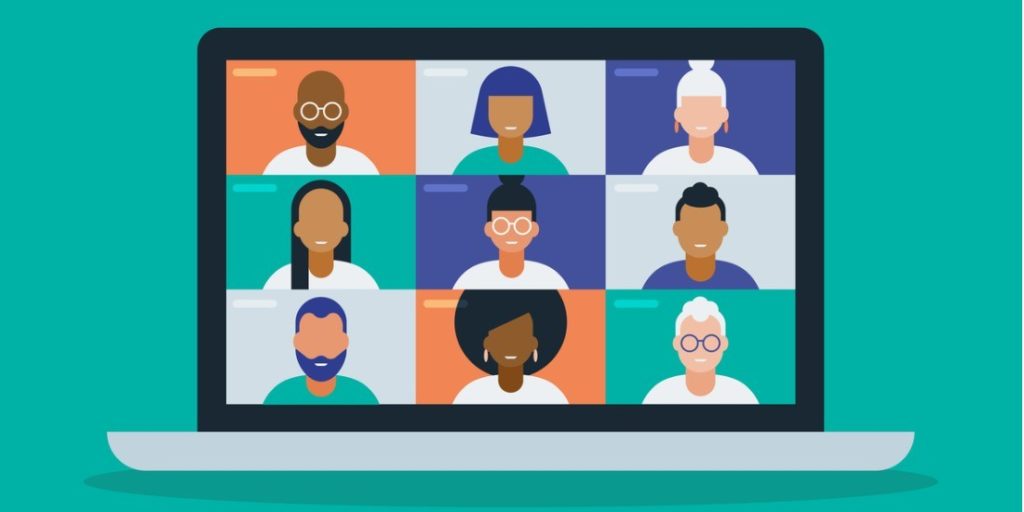 1. Video and voice calls
Make sure your application possesses both these features for enhanced user convenience.
2. Group calls
This feature is essential, especially when video calls are the only way to communicate within most companies online.
3. Real-time chats
This feature is also essential for user-friendly apps. Live text chat is a fast solution for boosting communication quality.
4. Sharing the screen
This feature plays an important role in grabbing the attention of users.
5. Personalized emojis and stickers
Adding such small but important features as custom-designed stickers will provide original and creative content for users. This will help you receive positive feedback and enhance the user experience.
6. Customized masks
Masks are currently a hot trend in apps of any kind. You can also make customized backgrounds to boost the experience.
These features help you reduce costs and improve the competitiveness of your application. Keeping up with the latest user requirements is the best way to achieve success.
The Bottom Line
Effectively monetizing a video chat app is a challenging task for developers. The very first thing to consider is the specific requirements of your project. We hope this article was useful for selecting the optimal strategy to monetize your video conferencing app among the most popular ones.