No of visitors who read this post:
464

Hi, I am getting this error when I try to deploy the solution of the web part before deploying the solution of the parent part.
Am I doing something wrong?
What could be the possible solution to this problem? I have attached error message below.
Please help me.
Thanks.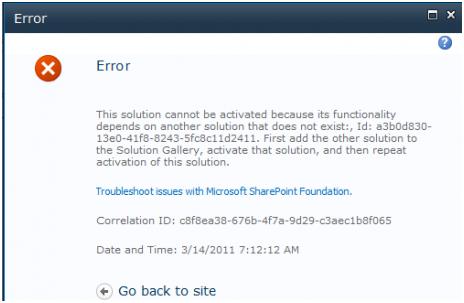 This solution cannot be activated because its functionality depends on another solution that does not
exist:, Id: a3b0d830-13e0-41f8-8243-5fc8c11d2411. First add the other solution to the Solution Gallery,
activate that solution, and then repeat activation of this solution.
Troubleshoot issues with Microsoft SharePoint Foundation.
Correlation ID: c8f8ea38-676b-4f7a-9d29-c3aec1b8f065
Date and Time: 3/14/2011 7:12:12 AM