Reported Attack Site! Warning messages in Firefox.
I bookmarked the site with the title Kristen Bell Online, just a few hours ago. I have not encountered any warning message from Firefox ever since. But as I go back on the site which I think, an hour ago, Firefox displayed a red warning message which says that the site has been reported as attack site so I click the "Get me out of here!" button. After few hours more, I got back on the site. The warning message had gone. So, what happened? Is this a trick from a virus infection or someone was attacking the said site and not the site was attacking me.
Please tell me what's wrong for I sometimes encountered this in Google also.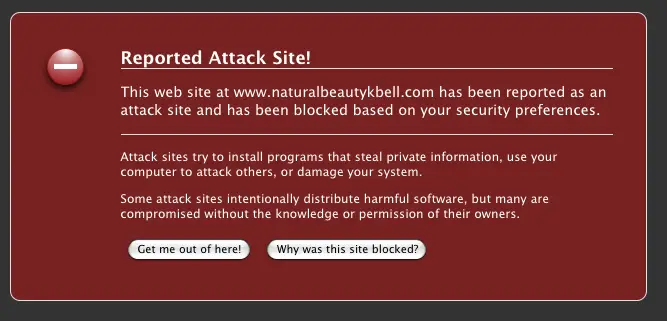 Reported Attack Site!
This web site at http://www.kristen-bell.org/ has been reported as an attack site and has been blocked based on your security preferences.
Attack sites try to install programs that steal private information, use your computer to attack others, or damage your system.
Some attack sites intentionally distribute harmful software, but many are compromised without the knowledge or permission of their owners.
Get me out of here! Why was this site blocked?