No of visitors who read this post:
301

I had a Program Error after installing Adobe Photoshop 7.0 in my Linux Debian. I re-installed the program but still encountered this serious problem when running Photoshop. Is there a way that I can recover from this problem?Can someone please help?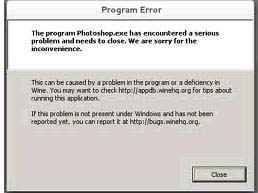 Error:
Program Error
The program Photoshop.exe has encountered a serious problem and needs to close. We are sorry for the inconvenience.