No of visitors who read this post:
164

Hi folks, I'm getting this error when I try to connect to MySQL server..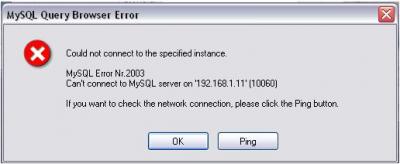 "MySQL Query Browser Error
Could not connect to the specified instance.
MySQL Error Nr.2003
Can't connect to MySQL server on '192.168.1.11'(10060)
If you want to check the network connection,please click the Ping button."
I am using a connection profile to establish the connection and the server is named in profile.
It would be really helpful if someone could come up with a solution.
Thank you.