Problem with NOD 32 antivirus
Asked By
30 points
N/A
Posted on -

07/14/2012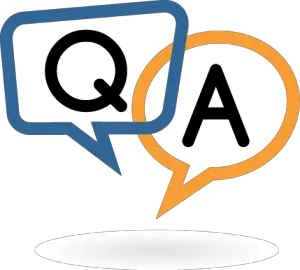 For a couple of weeks now I am getting an error message from NOD 32 antivirus every single time I boot up my computer. I did a little research and people seem to think it could be a virus, I have scanned all my hard drives (quick and thorough) and nothing comes up, it just appears to be normal. I have included the log so you can see it.
"Scan Log.
Version of virus signature database: 6812 (20120120).
Date: 2/5/2012 Time: 5:00:39 PM.
Scanned disks, folders and files: Operating memory;C:Boot sector;D:Boot sector;C:;D:
Operating memory » GLOBAL??9e503744Windows$NtUninstallKB43284$2656057156Desktop.ini – Win32/Sirefef.DN trojan – cleaned by deleting [1]
Operating memory » \.globalrootsystemrootsystem32mswsock.dll – error opening [4]
C:hiberfil.sys – error opening [4]
C:pagefile.sys – error opening [4]
Scan terminated by user.
Number of scanned objects: 15289.
Number of threats found: 1.
Number of cleaned objects: 1.
Time of completion: 5:02:27 PM Total scanning time: 108 sec (00:01:48).
Notes:
[1] Object has been deleted as it only contained the virus body.
[4] Object cannot be opened. It may be in use by another application or operating system. "
I think there is some sort of problem in the operating memory which is affecting the entire computer.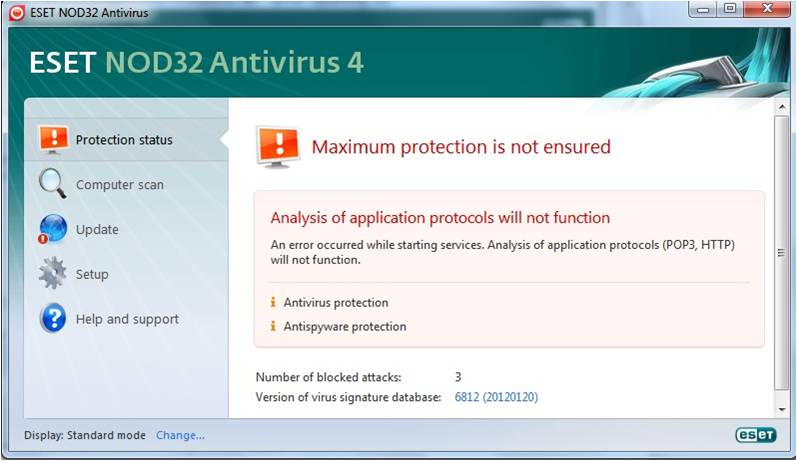 Maximum protection is not ensured.
Analysis of application protocols will not function
An error occurred while starting services. Analysis of application protocols (POP3, HTTP) will not function
To make matters worse I am unable to update NOD32 which in itself is very strange as I have never had any problems updating any software. When I click on the "use recommended settings" I get this error message, see screenshot.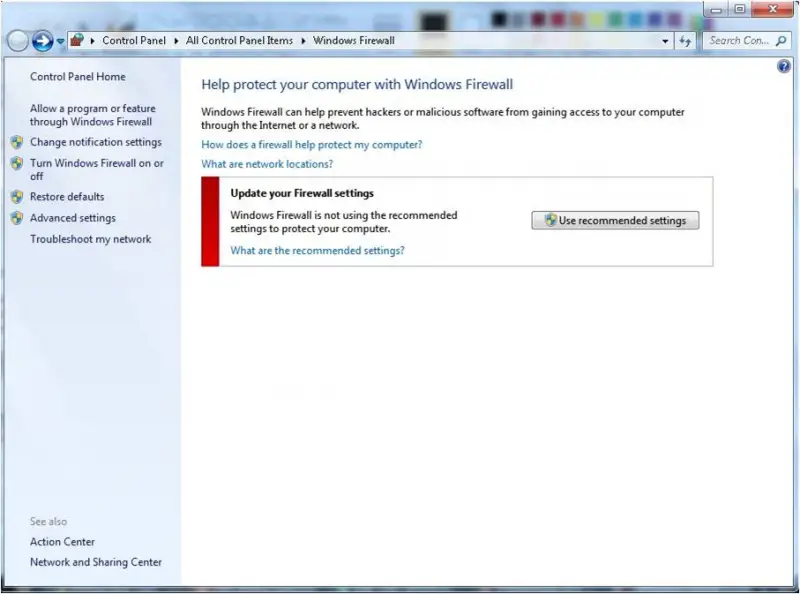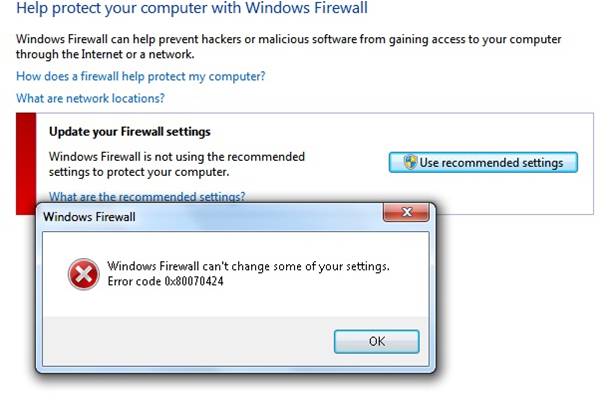 Windows Firewall can't change some of your seetings. Error code 0x80070424
Whatever is causing this is really restricting what I can do and what I can view. Please help if you can I will be very grateful.