No of visitors who read this post:
596

I have two documents which are in PDF format. When I print 1 PDF it works well, but when I tried to print another PDF this error appeared, and I can't print the file. Is there something error with the other file? What error causes it not to print? Please help me.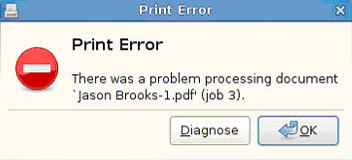 Print Error
There was a problem processing document 'Jason Brooks-1.pdf'(job 3)
PDF FILE-Print error.