No of visitors who read this post:
2085

Hi,
Since I start using Windows 7 my problems with sound started too. I have sound drivers SoundMax installed. Beside it my sound don't work normal. When I run winamp to play music I got error message. I don't know what should I do? Any suggestion will help.
Thank you
Kenneth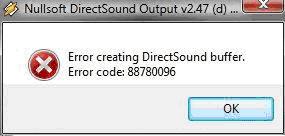 Nullsoft DirectSound Output v2.47(d)
Error creating DirectSound buffer.
Error code:88780096