No of visitors who read this post:
553

Hi!
One of my colleagues encountered an error while performing the data backup in SQL.
When pressing on the right click on any Database folder, the properties are not working properly.
The error below keeps on occurring.
Your help will be highly appreciated.
Thank You.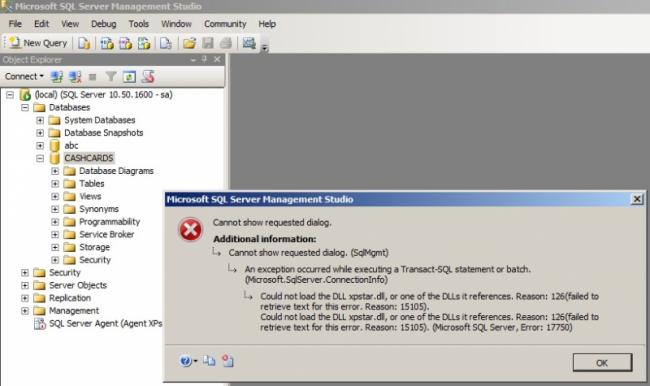 Error:
Microsoft SQL Server Management Studio
Cannot show requested dialog
Additional information
cannot show requested dialog(SqlMgmt)
An exception occurred while executing a Transact-SQL statement or batch
(Microsoft.SqlServer.ConnectionInfo)
Could not load DLL xpstar.dll or one of the DLLs it references Reason: 126 (failed to
retrieve text for this error. Reason:15105)
Could not load DLL xpstar.dll or one of the DLLs it references Reason: 126 (failed to
retrieve text for this error. Reason:15105)(Microsoft SQL Server,Error :17750)