No of visitors who read this post:
654

I am using Microsoft 2007, while trying to upgrade to 2010 beta by following Microsoft how to guide i am getting this error which says setup can not modify the file.
And the error message number it's showing is error 1321.
Getting confused on what to do.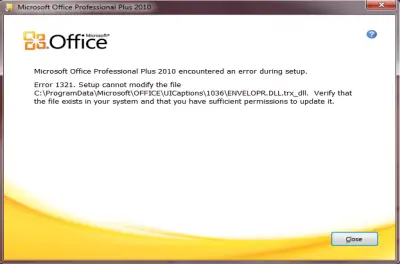 Microsoft Office Professional Plus 2010
Microsoft Office
Microsoft Office Professional Plus 2010 encountered an error during setup.
Error 1321. Setup cannot modify the file
C:\ProgramData\Microsoft\OFFICE\UICaptions\1036\ENVELOPR.DLL.trx_dll. Verify that
the file exists in your system and that you have sufficient permissions to update it.
Close