No of visitors who read this post:
335

Hi, I need to unistall Git version 1.7.1-preview20100612 from my WinXP SP3 machine. Whenever I try to uninstall it in the add\remove programs I receive an error so I tried to delete it by using Unlocker 1.8.5, but it also gives error
"No locking handle found.
However Unlocker can help you deal with this object.
Choose the action you want to perform on the object".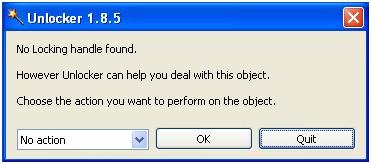 It then gives me the option to delete it at next reboot, which I selected, rebooted, but the file is still there. Anyone, who can explain about this error and moreover I do not exactly know what this locking handle actually is so please brief me about this also.