No of visitors who read this post:
223

Hi all,
I can't send emails to anyone just I can receive.
I have two accounts. I am able to receive as well as send Gmail account.
But on optus account I can just receive but not SEND.
I use windows 7 64 bit OS.
Also I use Norton 360 version 6.2.1.5 antivirus/firewall as well as thunderbird version 13.0.1.
I attempted all types of combinations, and looked at thunderbird errors, but I can't get any solution for this error. Here is the attached image: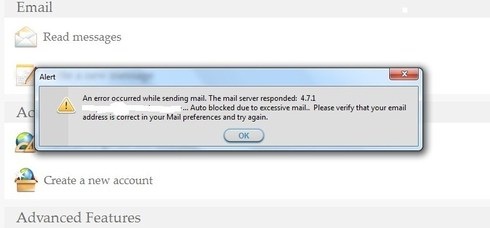 Alert
An error occurred while sending mail. The mail server responded: 4.7.1
------------------------------------------...Auto blocked due to excessive mail. Please verify that your email
address is correct in your Mail preferences and try again.
OK
I need your help. Please.
Thanks.