No of visitors who read this post:
599
Hi guys,
I'm having trouble using Microsoft Exchange Server 2007 so I decided to re-install the software.
During the process, I got this error message below saying Fatal error during installation."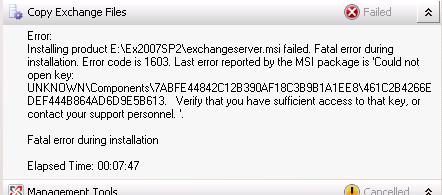 I don't understand what it is trying to say. Can you help me fix this error?
Thanks!
Error:
Error: Installing product E:\Ex2007SP2\exchangeserver.msi failed. Fatal error during installation. Error code is 1603. Last error reported by the MSI package is 'Could not open key: UNKNOWN\Components\7ABFE4484C12B390AF18C3B91A1EE8\461C2B4266EDEF444B864AD6DE58613. Verify that you have sufficient access to that key, or contact your support personnel.'. Fatal error during installation