No of visitors who read this post:
265

Hi experts,
I'm having trouble installing Microsoft Windows Essential Business Server in Hyper-V setup. I think time zone setting issues doesn't make it succeed. I know that EBS settings doesn't expose both the clock time and time zone settings during setup, and it always installs with a PST time zone. However, the children of Hyper-V will sync their BIOS time with the parent. But the setup will fail if the parent partition is in a time zone other than PST.
Another issue is about the security server. I am installing Exchange Gateway Objects. When the progress bar reached about 25%, I got an error message saying "Exchange encountered a failure during setup."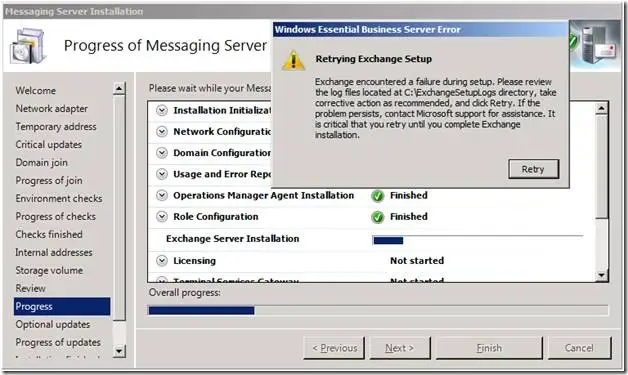 There's no problem when I join a domain with an existing Exchange 2007 administrative group. But if not, the error message above appears.
Any help is highly appreciated. Thanks!