No of visitors who read this post:
386

Hi,
I am getting the error message attached below.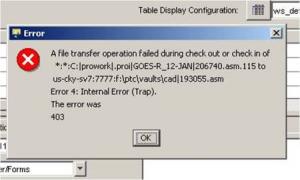 Error:
A file transfer operation failed during check out or check in of *:*:C:[prowork].proi[GOES-R_12-JAN]206740.asm.115 to us-cky-sv7:7777:f:\ptc\vaults\cad[193055.asm Error 4: Internal Error (Trap). The error was 403
I have not upgraded it yet. I want to solve this. Please help me to do it.
Thanks.