Hi to all, I am using my Firefox browser this morning at home, when I want to go site https://www.google.com/ to search for some articles, I meet an error that Firefox cannot connect to server, posted together here is the error message screen.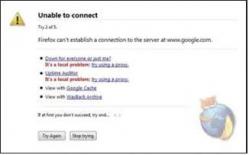 Unable to connect
Try 2 0f 5.
Firefox can't establish a connection to the server at www.google.com
When I check on the error, the first thing in my mind is my internet connection, as I check on the internet connection, its up and running since my laptop can browse to the internet, only my desktop pc cannot browse, I scan my computer for some virus that might hijack my browser, but no virus was found, I run out of the idea now on how to deal with this issue, please help me find ways to solve this issue, thanks.