No of visitors who read this post:
701
I have created a file in LabVIEW and I want to save this. But, I am getting an error message in order to save this-
"Error 116 occurred at Unflatten From String in VideoMASTER Analyze VBI. VI->LabVIEW API Off-Line CC.vi.
It also shows the reason such as -
"A possible reason (s): LabVIEW: Unflatten or byte stream read operation failed due to corruption, unexpected or truncated data."
I am new to this software. I don't know how to fix it up. I tried to Google it up and found some article about it. The result was nothing. I found nothing positive.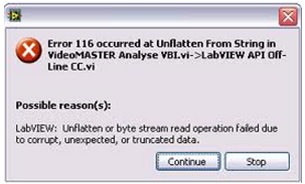 Then, I figured, I could set up rhino right but when I attempted to do that, I found this error message-
Error 1311. Source file not found:
C:\Docume~1user\locals~1\temp\rar$Dl10.5063\Rhino4_setup7.cab. Verify that the file exists and that you can access it. Can anybody help me with this?