No of visitors who read this post:
727

Hi,
In spite of connecting with internet all time, Norton is encountering error message, saying to connect internet properly. How can I overcome from this situation? Have you ever face with the following error message? I uses mobile broadband for my laptop. Please share your opinion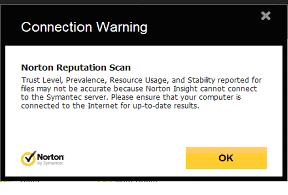 Connection Warning
Norton Reputation Scan
Trust Level, Prevalence, Resource Usage, and Stability reported for files may not be accurate because Norton Insight cannot connect to the Symantec server. Please ensure that your computer is connected to the Internet for up-to-date results.
Regards,
Angelina