No of visitors who read this post:
778

Hello everybody!
When I start to install any new program there shows a notification message from Avast regarding sand box. I want to know what is the sand box? Do I continue to install softwares in this situation? or can I drop?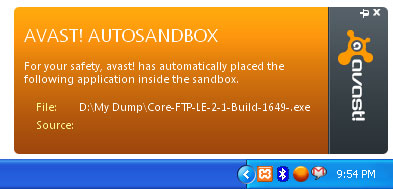 AVAST! SUTOSANDBOX
For your safety, avast! has automatically placed the following application inside the sandbox.
File: D:\My Dump\Core-FTP-LE-2-1-Build-1649-.exe
Source: