No of visitors who read this post:
1785
Hello, I recently started receiving messages twice or thrice when my computer is running. They say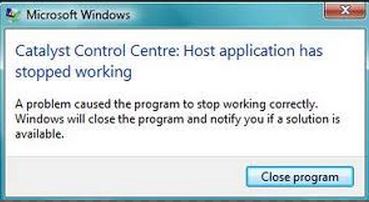 Catalyst Control Centre: host application has stopped working
A problem caused the program to stop working correctly. Windows will close the program and notify you if a solution is available.
After this I started losing files like the recent documents, music and videos etc. Though I recovered some of them with a recovery software but still there are some missing that are very important. I have tried a virus scan and defragmenting my drive but still the problem persists, even though I can tolerate the error but still I don't want to risk losing my files again.
I will be grateful for any help that you can provide in the matter.