No of visitors who read this post:
493
I have tried to load a game from the internet and wasn't successful at loading it even to my computer.
It however executed the following error message:
Problem Event Name: APPCRASH
Application Name: Borderlands.exe
Application Version: 1.0.0.0
Application Timestamp: 4ab92d4f
Fault Module Name: KERNELBASE.dll
Fault Module Version: 6.1.7600.16385
Fault Module Timestamp: 4a5bdbdf
Exception Code: e06d7363
Exception Offset: 0000b727
OS Version: 6.1.7600.2.0.0.256.48
Locale ID: 1033
Additional Information 1: 8c6d
Additional Information 2: 8c6d4f8736cd53e455550683d076b275
Additional Information 3: 13f6
Additional Information 4: 13f6a746d7834baa67b026085d402c87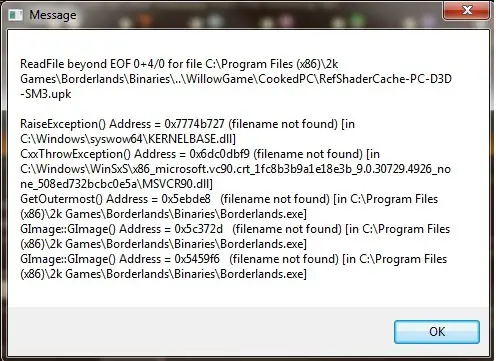 What is the problem in loading this game?
Any idea on how can I resolve this?
Thanks.