No of visitors who read this post:
785

Hello all, from yesterday avast has completely blocking my internet connection. So I tried to Uninstall Avast. But surprisingly I was not being able to uninstall avast 7 from my pc. I am getting the following error when trying to uninstall Avast 7. I am using Avast 7 on a Windows seven PC. Please tell me how can I uninstall it.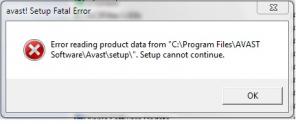 Error reading product data from 'C:\Program Files\AVAST Software\Avast\setup\".Setup cannot continue.